Spring Festival Eve dinners around China
Macao Special Administrative Region
"Dish with Good Intentions"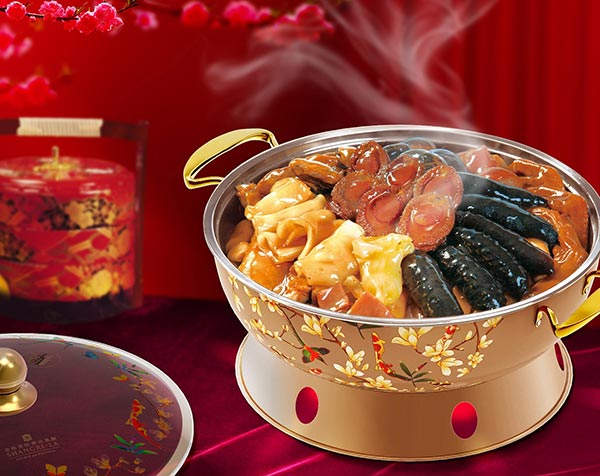 Fortune Poon Choi. [Photo provided to China Daily]
While Tangyuan (rice dumplings) is rather a dispensable option, "Yik Tao Tsoi" (dish with good intentions) is customary for reunion dinners on the eve of Spring Festival in Macao.
Consisting of multiple ingredients, the dish is like a cornucopia, with each kind of food representing a specific good wish.
The cauliflower, "Fat Tsoi" in Cantonese, for instance, is homophonic to another word that means "getting rich", to demonstrate people's wish to make a fortune. "Hou Si", dried seafood, sounds quite like "hao shi" in Chinese, which denotes "lucky things", so it always makes an appearance at the reunion dinner with the hope that something good will happen in the next year.
Hoi Kaweng, a woman from Macao who works at the Bank of China, is busy preparing the food needed to make the "Dish with Good Intentions". "Actually, the process of preparation also provides us the opportunity for a family reunion and it is always brimming with love and harmony".