Spring Festival Eve dinners around China
Taipei, Taiwan province
Steamed mullet roe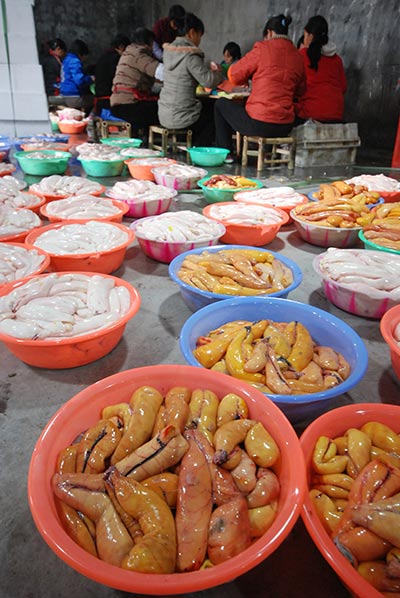 Workers work to process mullet roe. [Photo by Jia Ce/Asianewsphoto]
Around Chinese New Year, shoals of mullets swim to the east of Taiwan to escape from chilly winter, providing abundant material for a traditional dish in Taiwan - mullet roe.
Cheung Chi-suen from Taipei is now pursuing his PhD degree in Japan. When asked about the dish that he misses most during Spring Festival, he gushed about the steamed mullet roe cooked by his mother.
"The steamed mullet roe has been the indispensable dish for Spring Festival since I was little. It almost becomes the epitome of my childhood. I can still remember my mom saying that the trick to cooking the dish is to add minced garlic after steaming the roe for ten minutes. It helps to preserve the original flavor of the roe."