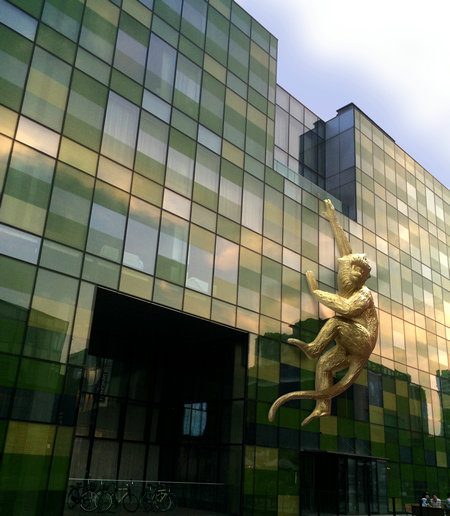 Lisa Roet's sculpture of a golden snub-nosed monkey is showcased on a building in Beijing's Sanlitun area. [Photo provided to China Daily]
A giant golden monkey climbing a green glass building in Beijing's downtown attracts a lot of eyeballs, and bystanders liken this scene to King Kong looking at an urban landscape from the top of a building. For its maker, Lisa Roet, an Australian artist whose inspiration comes from primate research, the giant inflated golden monkey is a symbol of global warming-to remind humanity we're displacing animals, including our relatives that share 99 percent of our DNA, says Roet. The first golden monkey show was staged in February in Melbourne.
Then, a 9-meter-high golden monkey was placed atop the parliament to mark the Chinese Year of Monkey in Melbourne.
Now, a 14-meter version of it is in China, climbing a wall of Opposite House, a hotel in Beijing's Sanlitun area.
The inflated golden monkey work is based on the golden snub-nosed monkey discovered in 2010 on the border between China's Yunnan province and northern Myanmar. No more than 400 survive.
They were found because villagers heard them sneezing.
Typically, snub-nosed monkeys are found in high-altitude areas.