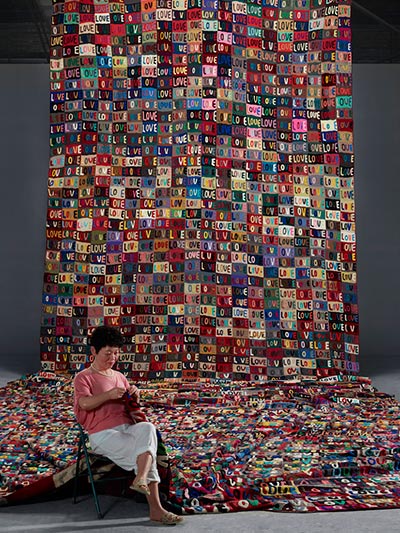 Installation by Ai Jing, My Mom and My and My Hometown. [Photo provided to China Daily]
Chinese contemporary artist Ai Jing will hold her solo exhibition at the Marlborough Gallery in New York from Nov 16 to Dec 30.
Titled Love Ai Jing, the exhibition is the fourth edition of the artist's touring exhibition, which has been held at venues including National Museum of China in Beijing in 2012, the National Art Museum of Shanghai in 2014 and the Veneranda Biblioteca Ambrosiana in Milan in 2015.
During her upcoming exhibition in New York, she will display some of her representative works including the installation My Mom and My Hometown, I Love Heavy Metal and as many as 20 new works from her major series I Love Color as well as works from her Walking in the Sun series.
"Ai Jing's love of art has determined her attitude toward art. She goes through great pains to achieve rapport between concept and material," says Chen Lyusheng, deputy director of the National Museum of China, who curated Ai's exhibitions in Beijing, Shanghai and Milan.
"She spares no effort when creating artworks. She uses love to protect art and thus makes her contribution to contemporary Chinese art."
"The light and love that flows from these pictures is special and has probably emanated from Ai Jing her entire life. It is what draws people to her and to her art. People who buy and admire her paintings are those that want to stand apart and beyond fashion. They are people who admire compassion, integrity and sincerity in art—these are the hallmarks of her life and her career as a musician and now a painter.
It is what draws me to her and her work along with the audaciously complicated technique she uses to make her paintings and the constant experimentation with materials, which forms and defines them," commented Benjamin Genocchio, Executive Director, The Armory Show, New York, on Ai's works when the artist displayed her artworks in the international art fair early this year.
A native of Shenyang, Liaoning province, the 46-year-old Ai learned music from her father, who plays the erhu (a two-stringed bowed instrument). Her debut album, My 1997, sold more than 200,000 copies within one month of its release in 1993. Her second album, Once Upon a Time on Yanfen Street, was another success, which brought her recognition outside the Chinese mainland, including in Hong Kong, Taiwan and Japan — a rarity for mainland singers then.
She first went to New York in 1997 to seek inspiration for the album Made in China, and she wrote most of the songs for that album while living there.
Her apartment was near Central Park, where the tall buildings and graffiti gave her imagery of a vibrant and experimental art scene. She lived in the Lower East Side from 2002 to 2008, honing her skills as an artist.
In the summer of 2009, Ai was commissioned to do a work for a group exhibition, The Drop-Urban Art Infill, in New York. She presented recorded sounds with pictures of 10 different places in New York, including the noise of a construction site, and a peaceful afternoon in Harlem — the northern section of New York City, where people walked in the sun and the music of Bob Marley played. The same year, she held her solo exhibition, Ai Want to Love, in New York.
In 2008, Ai left New York and established a studio in Beijing, devoting herself to working as a professional artist.
"I was amazed by the beauty and strength of her works," says Marcia Levine, special projects director of Marlborough Gallery, who first met Ai in New York in 2015.
"She showed us that art could connect East and West in a cultural way," adds Levine, "and we want to present her works to the people in the US."
Marlborough Gallery, which was founded in 1946, has two spaces in New York as well as locations such as London, Madrid and Monaco, has been working closely with Chinese artists since the 1990s, including the late Chinese-French artist Zao Wou-ki.
Related:
Food themed art commemorates World Food Day