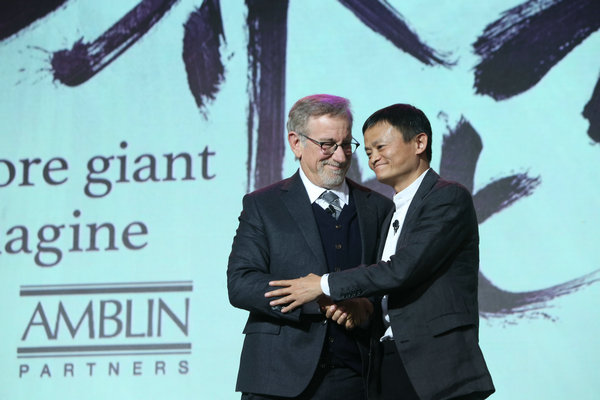 Steven Spielberg, chairman of Amblin Partners, and Jack Ma, chairman of Alibaba Group, attend an event to announce a partnership in Beijing on Sunday.[Photo provided to China Daily]
Ma Yun, aka Jack Ma, is again showing his ambition to be part of the world movie business.
The chairman of Alibaba Group, who's one of China's richest people, has already invested in Hollywood blockbusters such as Mission: Impossible 5 and Star Trek Beyond.
Now, he is seeking an alliance with Steven Spielberg.
Spielberg's movies "talk of values, kindness, forgiveness and an optimistic future", Ma told his audience at a Beijing event on Sunday.
Before that, Alibaba Pictures, the film arm of his tech giant, signed a deal to pick up a minority stake in and a board seat on Spielberg's Amblin Partners, which plans to produce up to nine films a year.
Amblin's The BFG, a Spielberg directorial feature adapted from the 1982 namesake children's novel by Roald Dahl, will debut on the mainland on Friday in 2-D, 3-D, Imax 3-D and Dmax formats.
The film was released in North America in July.
For the Chinese version, the voice-over of the main characters has been provided by actor Huang Lei and his 10-year-old daughter, Huang Yici.
A capable company CEO in the future could be "a computer, a machine or an ET", according to Ma, whose group employs nearly 40,000 people and serves 434 million users on online platforms.
But Ma also says machines can't replace humans in creating works of art.
Spielberg, who first became known in China and much of Asia following his sci-fi masterpiece E.T. the Extra-Terrestrial (1982), echoes that belief.
"The future is not about high technology, but about human value. In the past 50 years, we've made human beings like machines. In the next few years, we'll make machines like humans," Spielberg said at the same Beijing event.