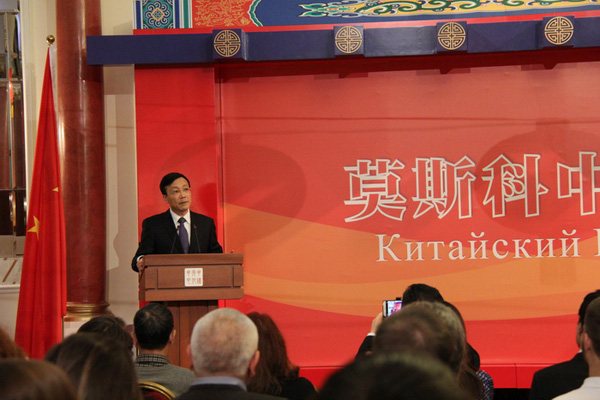 Chinese Envoy Zhang Xiao addresses the opening ceremony. [Photo/Chinaculture.org]
The commemorative exhibition of Tang Xianzu and Shakespeare, Dialogue across Time And Space, opened at the China Cultural Center in Moscow on October 6.
This year marks the 400th anniversary of the deaths of the two great playwrights, Tang Xianzu and William Shakespeare. Tang was famous for writing The Peony Pavilion, The Nanke Dream, The Handan Dream and The Purple Hairpin in the Ming Dynasty ( 1368 -1644). About the same time, Shakespeare became a household name as a prolific British playwright during the Renaissance. They died the same year, 1616, giving all the more reason to honor them together.
Nearly 200 people attended the opening ceremony, including prestigious Russian sinologists and musicians. Envoy Zhang Xiao from Chinese Embassy in Russia and Kulikova, First Deputy President of the Russia-China Friendship Association, addressed the ceremony.