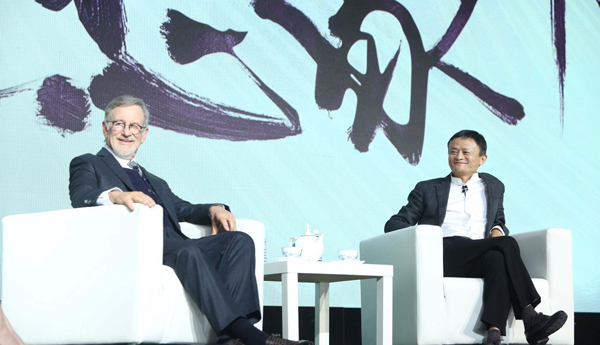 Steven Spielberg and Jack Ma. [Photo provided to chinadaily.com.cn]
The film offshoot of e-commerce giant Alibaba Group has purchased a minority stake into Amblin Partners, the production outfit backed by Steven Spielberg, to work together to not only bring Hollywood movies to China but also tell Chinese stories to the world.
The investment is part of a comprehensive strategic partnership agreement that Alibaba Pictures Group inked with Amblin Partners in Beijing on Sunday, as the internet film company builds up its film production and content creation capabilities.
Zhang Wei, president of Alibaba Pictures, said the Hong Kong-listed company aspired to become a studio that could produce content not only for the Chinese market, but also a worldwide audience. "That (goal) requires good skill in story-telling and Steven Spielberg is definitely the best of the best," she said.
The agreement with Amblin Partners is Alibaba Pictures' most comprehensive partnership deal to date, with the two agreeing to work together on production, marketing and distribution, both globally and in China.
Neither revealed the specific financial terms of the deal. But Zhang said Alibaba Pictures would get to name a representative to sit on the board of Amblin Partners, which was founded in 2015 by DreamWorks Studios, Participant Media, Reliance Entertainment and Entertainment One. Spielberg is the Chairman of Amblin Partners.
Jeff Small, president and co-chief executive officer of Amblin Partners, said it was Alibaba Pictures' understanding of Chinese stories and its power to access the Chinese market that led to the partnership.
He said the company intended to make six to nine movies a year and the two companies already had a lot of meetings to discuss which stories on which they could start to work.
However, Zhang of Alibaba Pictures said the partnership was eying long-term growth rather than short-term returns. "Of course, we want to see our cooperation comes to fruition as soon as possible. But we are not rush to launch new movies as we know good stories, good movies need some quality time to be built up," she said.
Related:
Chinese movie earns accolade at Abuja film festival