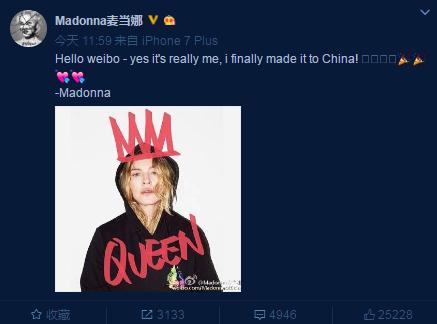 Pop icon Madonna's first entry on China's Twitter-like Weibo. [Photo/Official Sina Weibo account of Madonna]
"Hello weibo - yes it's really me. I finally made it to China!" With a simple greeting, Grammy Award-winning pop star Madonna Louise Ciccone opened an official account on China's Twitter-like Sina Weibo on Friday morning.
Her Chinese fans quickly inundated her with warm wishes.
The 58-year-old singer first posted a message on Weibo at 11:59 am, and it helped her to garner nearly 30,000 followers within two hours.
The hashtag MadonnaOpensAWeiboAccount has been viewed by nearly 800,000 internet users with thousands flooding to comment.
While some enthusiastic fans wrote how much they love their "Queen of the universe," others welcomed the legendary star with photoshopped emotions – an internet meme in China.