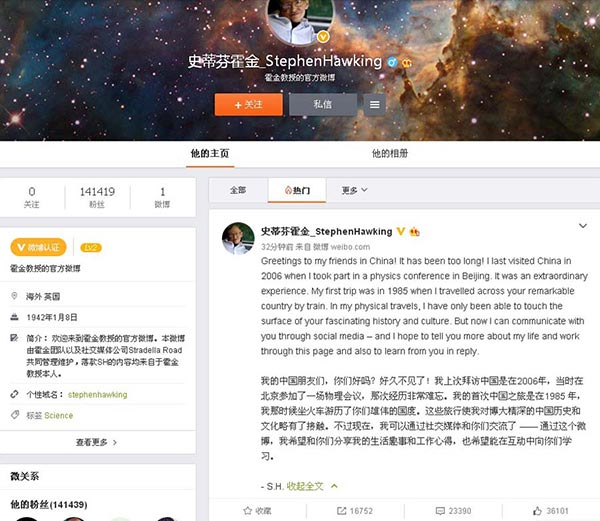 A screen capture of Stephen Hawking's Weibo account. [Photo/Weibo]
World-renowned British scientist Stephen Hawking opened an account on Chinese microblog Weibo.com on Tuesday, attracting 1.3 million followers in 8 hours.
"Greetings to my friends in China! It has been too long!", his first entry said.
Hawking is very popular in China for his work developing the Big Bang Theory and perseverance in overcoming the difficulties of his disabilities, especially among young people. Hawking's A Brief History of Time has long been a bestseller in China's bookstores.
Hawking said he can now regularly communicate with Chinese people through social media and that he hopes share more about his life and work while also learning from his followers.
Hawking's account attracted more than 1.3 million followers only eight hours after his first entry at 10:12 am Beijing Time. He now has 2.98 million follower, and his last post received more than 392,000 comments and 877,000 thumb ups. It also became a hot topic on Weibo, affiliated with China's largest internet company Sina.com, as over 20 million read the entry.
At the last count, Sina.com had more than 222 million active accounts, the company said.
"Nice to meet you, Mr. Hawking! I have a question for you - do aliens really exist?" user Lo-Ling asked in Chinese in response to Hawking's first entry.
"Welcome to Weibo. I remember your last visit in China. It made me very excited at the age of 15. Hope you will enjoy yourself here and share more with us," user Gratl wrote in English.
Hawking said he last visited China in 2006 for a physics conference in Beijing. His first trip to China was in 1985 when he travelled across the country by train.
"In my physical travels, I have only been able to touch the surface of your fascinating history and culture," Hawking said in one post, using the signature S.H. to indicate he was personally making the entry.
Sina told Xinhua that Hawking's team contacted them earlier this year to verify his application. The account says in the introduction that it is jointly operated by Hawking's team and US social media company Stradella Road.
"Weibo will become an important channel for Prof. Hawking to communicate with his Chinese fans," Sina told Xinhua, "he will bring many surprises for us."
Related:
Stars call for thorough investigation into vaccine scandal