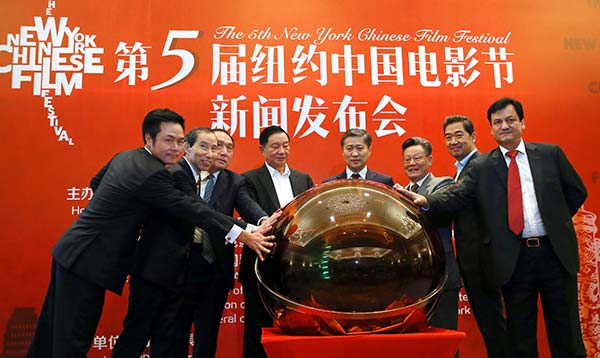 The launch ceremony of the 5th New York Chinese Film Festival is held in Beijing today. [Photo by Zou Hong/China Daily]
The 5th New York Chinese Film Festival was launched in Beijing today.
As an annual event held to promote Chinese cinematic culture in the United States, the festival will open on Jan 6, 2017, in Lincoln Center and last for around a week.
More than 10 critically acclaimed Chinese films will be screened in several New York theaters and 36 American universities, including Harvard, New York University, Massachusetts Institute of Technology, and Columbia University.
Wang Xinjia, co-founder of the festival, told China Daily that the biopic Xuan Zang will be on the list. The rest of the lineup is yet to be confirmed.
Based on the Tang Dynasty monk Xuan Zang's legendary journey to collect Buddhist volumes in India, the Huang Xiaoming-starrer film was earlier reported to be China's entry in Oscar's best foreign language category.
Wang said the screening selection will favor more art house films featuring humanity and nature.
Long Yuxiang, executive chairman of the festival's organizing committee, say the event will act as a bridge to connect filmmakers from China and the US, the world's two largest movie markets.
He added that the event, through a display of some of China's recent hits, will introduce "Chinese value, culture and history" to the American audiences.
Awards-winning actor Zhang Guoli was appointed as the festival's chairman.
Citing Sparking Red Star, a 1974 revolutionary movie that influenced a generation, Zhang said classic movies have their enduring charm to pass on history and knowledge.
In addition to opening and closing ceremonies, the festival will hold a series of forums, covering varied topics from directorial debuts to micro films.
A project titled Green Apple will also be launched during the festival which will award up to $1 million to young talents, but the winners are yet to be decided.