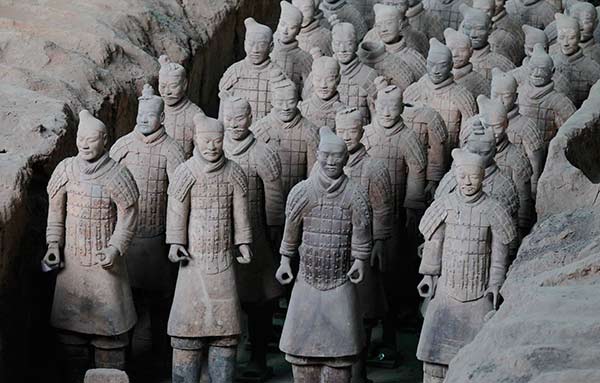 Terracotta Warriors at the Emperor Qinshihuang's Mausoleum Site Museum in Xi'an, Shaanxi province [Photo by Zhu Xingxin/Asianewsphoto]
According to the reports from BBC and US's National Geographic, archaeologists claim that the latest study has shown that the Terracotta Warriors and Horses in the Emperor Qinshihuang's mausoleum in China may be inspired by ancient Greeks.
They said that ancient Greek artisans could have been to the then Qin Dynasty (221-206 BC) in the third century BC and trained the local artisans to build the Terracotta Warriors and Horses.
Besides, archaeologists also discovered that European mitochondrial DNA was found in the Qin Dynasty ruins in China's Xinjiang, which shows that Westerners may have come to China during the Qinshihuang (China's first emperor)'s reign. This is more than 1,500 years earlier than Marco Polo's journey to China in the 13th century.
BBC and National Geographic have shot a documentary based on these findings, which are derived from archaeologists' discoveries in the Emperor Qinshihuang's Mausoleum Site Museum.
Liu Xiuzhen, an archaeologist from the museum said, "We now have evidence that close contact existed between China and the West before the formal opening of the Silk Road. This is far earlier than we formerly thought."
Experts said there is evidence from the sculptural style of the Terracotta Warriors, as China didn't have a tradition of building life-sized human statues before the Qinshihuang tomb was created.