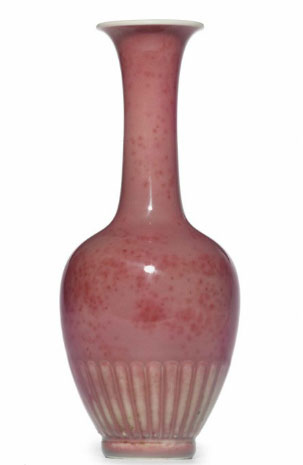 A rare peachbloom-glazed "chrysanthemum" vase from Kangxi period (1654-1722) of the Qing Dynasty [Photo/christies.com]
Chinese ceramics did especially well in New York's autumn auction market, setting new records with many collectors picking up the porcelains alongside ancient paintings and other royal items, reported the Financial Times.
A batch of auctions by the two auction houses Sotheby's and Christie's concluded in late September, with the market showing stability and ceramics in particular performing very well. During the Metropolitan Museum of Art's ceramic sale, renowned antiquarians gathered and despite the fact that there wasn't fierce bidding on the floor, offline auctions clinched deals for 100% of the pieces. At the same time, a tenmoku "oil spot" Jian tea bowl dating from China's Southern Song Dynasty (1127-1279) sold for more than $11.7 million, setting a new world record for a Jian kiln item, during Christie's Asian Art Week in New York. The sale has invigorated the ancient ceramics auction market.
Chinese ceramics, along with other Chinese art categories, have netted $2.3 billion in the first half of 2016, occupying over 30% of art sales of the world's auction houses, which totals $6.53 billion.
Due to the popularity of Chinese ceramics in the first three quarters of this year, art collectors and investors who focus on China's ancient paintings and calligraphy or royal antiques are turning to ceramics.
According to the United Nations Educational Scientific and Cultural Organization, of the collections in over 200 museums from 47 countries around the world, there are more than 1.64 million Chinese relics. Most of these relics were lost overseas after the Opium War in 1840, and the proportion of ceramics cannot be calculated accurately. The flow of trade of Chinese ceramics from the Tang Dynasty (618-907) to the Qing Dynasty (1644-1911), which was far wider than other art categories, also makes the total number of overseas Chinese ceramics more difficult to estimate.