Early-bird breakfast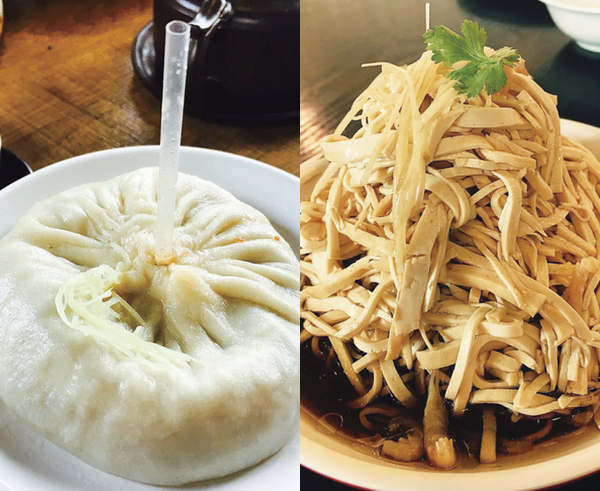 Xie huang tang bao, or crab-roe soup dumpling (left) and tang gan si, or shredded tofu in soup. [Photo by Owen Fishwick/China Daily]
I'm not normally one for early starts. But the breakfast in Yangzhou is something to wake up early for, I'm assured by my Chinese colleagues.
And so, on a brief trip to the historical city, I find myself up before the sun preparing to tuck in to something I've never tried before-zao cha.
Zao cha, or early breakfast tea, is something of an institution in Yangzhou, Jiangsu province. It is an early-morning meal where delicious small treats are served with a variety of steaming hot teas.
You might say it sounds similar to any other breakfast ritual that takes place throughout the world-that's where you'd be wrong. Zao cha in Yangzhou is a traditional, cultural and overwhelmingly social event.
As the soporific effects of the night before wear off, I descend a case of winding steps which take me to a sunken quadrangle, hemmed in by ornate Qing Dynasty buildings. I am immediately struck by how many people are crammed into the space below-my interest is piqued. Over to the left a squadron of elderly men and women, probably fitter than me, perform tai chi in unison. To the right, another hefty group sit on benches chatting and listening to Yangzhou ditties. Straight ahead is what they are all here waiting for, the true purpose-Ye Chun Teahouse.
Ye Chun was first established in 1877 as a place for Yangzhou locals to enjoy good tea and good food. Over the years the restaurant has become synonymous with zao cha, with people lining up in the early hours to get a table so they can enjoy the food, the hot tea and most importantly a good chat with friends.
Luckily for me, a Chinese colleague managed to wangle us a table and so we were able to go straight inside. Just as the decor of the restaurant carries a distinct and intricate woody theme, so does the aroma, the smell of earthy steeped tea filling the air.