Early-bird breakfast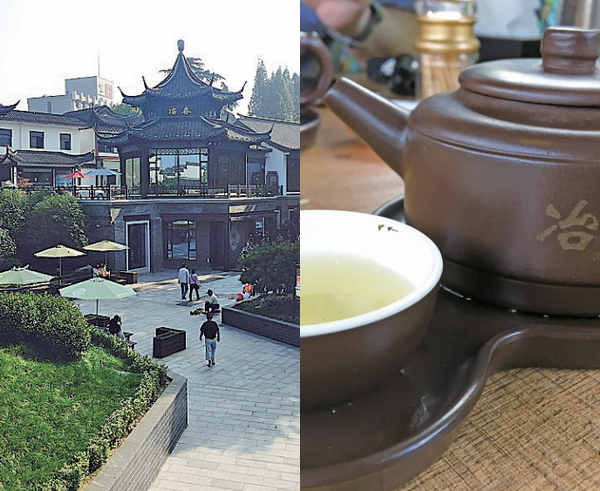 The Qing Dynasty-styled architecture of the Ye Chun Teahouse (left) in Yangzhou and a pot of tea which is served with a variety of small treats.  [Photo by Owen Fishwick/China Daily]
At the table, a squat clay teapot, the size of a softball, sits upon a wooden board. Our waitress informs us of the many varieties of tea available, including unique blends served only in the restaurant. Not being a tea sommelier, I take a pot-luck pick and am pleasantly surprised by its strong but not bitter flavor.
The first food to arrive is tang gan si, or shredded tofu in soup. The thoroughly enticing dish of thin-sliced tangles of tofu looks like a mini mountain, floating in a lake of boiling broth, adorned with small shrimp snowflakes. Its salty and slightly umami taste is right up my street.
The next dish is san ding bao, or three-diced bun. This looks more familiar to me, seemingly just a baozi, a soft steamed bun with some sort of filling-a particular breakfast favorite of mine, I might add. But san ding bao is no ordinary baozi: stuffed with sliced pork, chicken and bamboo shoots, then steamed and served. Ye Chun's soft dough is made even softer from the use of a traditional method of fermentation, which I'm told is a trade secret.
The final dish to arrive is what I have been secretly waiting for all morning, xie huang tang bao, or crab-roe soup dumpling. Appearing on a stout pedestal and looking more like a cocktail than a breakfast snack, it is only apt that this dish comes with a straw. Staring up at me is a large bag or pouch made of the thinnest of thin dough. Inside the delicate orb is a fresh and fragrant crab roe soup. Now, every soup I have ever had has come in a bowl and swiftly moved, via a spoon, to my mouth or down my shirt-not in a small bag. This is where the straw comes in. By carefully piercing the skin of the dough you are able to slowly suck the delicious crab contents from within. This dish is truly a delight to behold and well worth a wait-its fresh, aromatic flavor pervades the palate, leaving me with a sweet aftertaste.
After filling my belly and feeling utterly content with my delicious meal, I ascend the steps and look back down on the courtyard-people still queuing to get a taste of what I'd just had.
As I walk to work, the morning sun crests the tops of the trees in the distance and it dawns on me why so many people wake up every day for Yangzhou's zao cha. I think I'll start getting up early more often.
Contact the writer at owenfishwick@chinadaily.com.cn