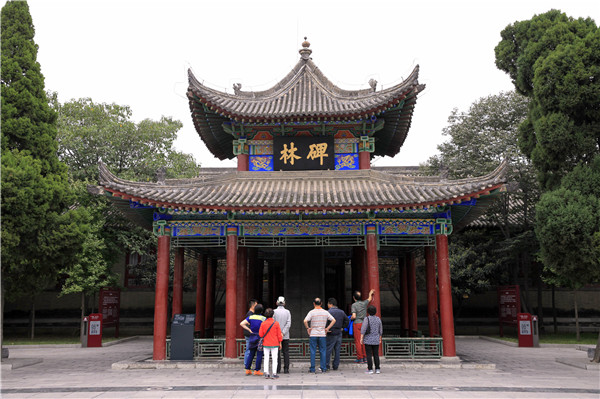 A pavilion at the Stele Museum. HUO YAN/CHINA DAILY
A doctor, surnamed Zhang from Luoyang, Henan province, uses his mobile phone to take photos of the details of some steles. "I do not practice calligraphy. But I appreciate the beauty of the ancient calligraphers. I will show these photos to my friends," said Zhang.
"The visit to the museum is like a pilgrimage. It looks more magnificent than expected," said Zhao Haitian, a traveler from Hebei province, who has been practicing the calligraphy of Ouyang Xun, a Tang Dynasty calligraphy master, for two years. "I major in Japanese at university and I learn calligraphy from my Japanese-language teacher. But it is very difficult for me to acquire the soul of Ou's style."
Zhou Yun, a Chinese Australian from Xi'an, visits the museum with her Israeli Australian boyfriend. "My father always inspires me to practice calligraphy. He gifts me writing tools, and strongly suggests that I visit the museum in Xi'an, my hometown," Zhou said.
Contact the writers at liyang@chinadaily.com.cn