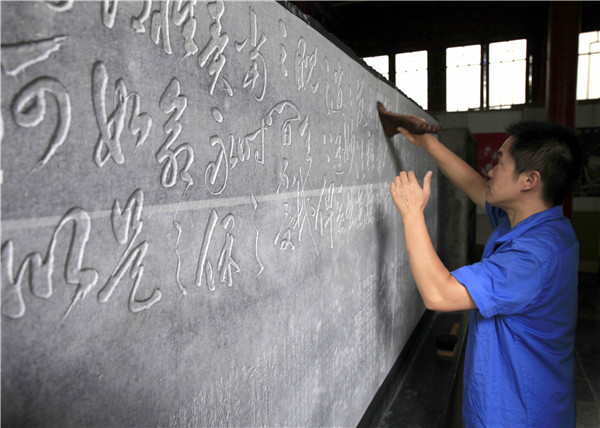 A worker at the Stele Museum cleans a stone stele for screen printing. HUO YAN/CHINA DAILY
The museum covers an area of 31,000 square meters and has seven exhibition halls. The first hall mainly displays the text of 12 Confucian classics carved on 14 steles. The stones were engraved more than 2,000 years ago, when printing was not yet invented. The second hall exhibits calligraphy steles written by the prominent calligraphers of the Tang Dynasty (618-907), a golden age for calligraphy.
The third hall also exhibits works of calligraphy. These steles were inscribed with five varieties of calligraphy, seal characters, official script, regular script, running hand and cursive hand, which demonstrate the development of Chinese calligraphy over 2,000 years.
The fourth hall contains various kinds of stone sculptures from the Han Dynasty to the Tang Dynasty. The fifth, sixth and seventh halls display stele engravings from the Song Dynasty to the Qing Dynasty.
The most famous stone sculptures are six embossed horses found in Tang Emperor Li Shimin's tomb, which represent the highest level of stone carving in Chinese history.
A cultural relic dealer broke the stone horses and tried to smuggle them abroad piece by piece in the 1940s. At least two horses were smuggled to the United States and stored in the museum of the University of Pennsylvania. The other four horses were intercepted by Chinese customs and are displayed in the Stele Museum.