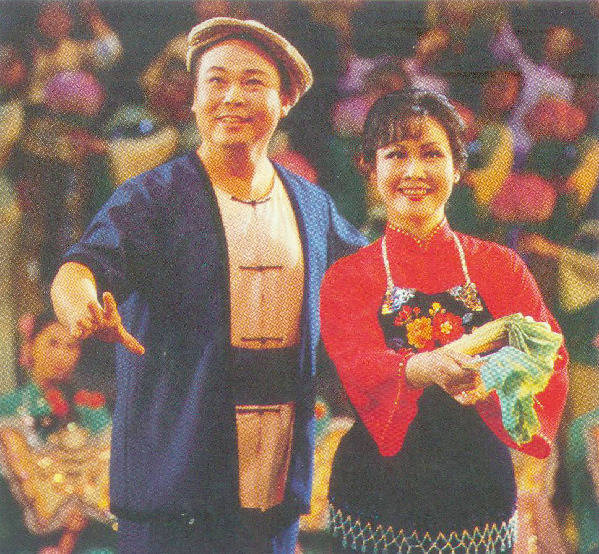 Liu Shiming and soprano Li Guyi perform in The Song of the Chinese Revolution in early 1980s.[Photo provided to chinadaily.com.cn]
Unable to speak for years after birth, Liu Shiming began singing verses in folk style before he could even speak and is cited as full embodiment of the legendary wood-turned stone that sings, Wen Zongduo and He Keyao report.
"A beautiful legend has been going on,
An exquisite stone can sing a song.
It can offer wit to the stout-hearted,
And can offer joy to the kind-hearted.
So long as you fathom its value lifelong,
You can gain it though mounts are high and distance long."
Thus goes the theme song A Beautiful Legend, a great hit that captured the Chinese music scene in 1985. What is more interesting is that the singer of that song, Liu Shiming, has become a living legend that embodies all the qualities of that stone that sings.
The theme song of a TV drama series first broadcast in 1985 tells the story of an emperor's tutor in ancient China trying to fight off corruption, and his nature was traced to a precious fossilized stone that originated in wooden fish and is used mostly at monasteries in chorus and reading, thus the title The Legend of Wooden-fish Stone.
The song A Beautiful Legend is like a fresh breeze that swept across the mainland "during that particular period of time when the prevalence of Hong Kong songs could be felt in streets and villages after decades of absence of sentimental pop," says Liu Shiming, now an established actor-singer and folk artist who lives in southern Beijing. Liu remembers that week clearly. "The recording of that song actually took me just one hour to finish, but it shot to national fame in a far faster speed," he says.