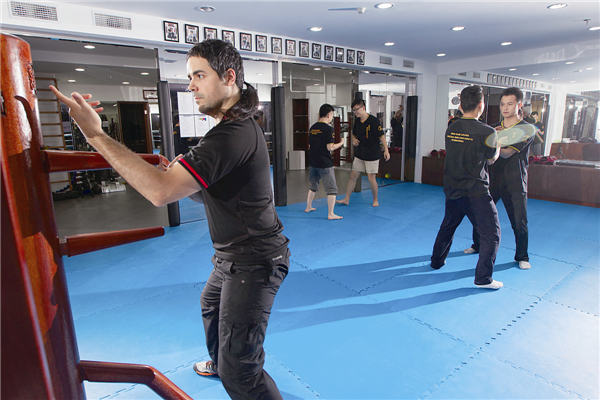 Photo by Gao erqiang / Shanghai Star
He taught Bruce Lee many of his game-deciding moves, but not the one-inch-punch parlor trick, those hysterical screams or that trademark nose flick.
Lee died of acute cerebral edema on July 20, 1973 at the age of 32, surviving his former teacher by seven months. They both passed away in Kowloon, Hong Kong.
Since then, their respective teachings — Lee reinterpreted and expanded on wing chun to develop his own school of jeet kune do — have spread all over the world.
Now Battaglia wants to bring his teacher's version of wing chun back to the mainland, starting with Shanghai. This is based on a personal promise he made to Wan Kam Leung, who was taught by one of only four students to finish the system with Yip Man.
"I basically gave up everything in my life to follow this guy," says Battaglia, who spent four years in Hong Kong. He describes visiting Yip Man's grave with his teacher as one of the best days of his life.
"I was originally going to open a school in San Francisco but he urged me to help bring it back to China. These days, wing chun is largely unknown outside Foshan and Guangdong."
The other expat here who can cling to such Old Testament-style genealogy is David Davila, who was taught by Kenneth Chung, who was taught by Leung Sheung, another of Yip Man's students.
Battaglia has studied Japanese and Brazilian jujitsu, British boxing, Indonesian silat and kali, or stick-and knife fighting from the Philippines. Now he is a self-confessed wing chun fanatic who trains for eight hours a day, including several hours of qigong.
"He's a psycho about this, no other hobbies," says Cora, his Cantonese wife. She helps run the business.
He tries to limit his classes to 15 students. The school opened in January 2013.
A package of eight lessons at Battaglia's club costs 1,200 yuan. The 1,000-yuan membership fee includes a uniform and booklet linked to the broader international group, of which his club operates as a de facto franchise.