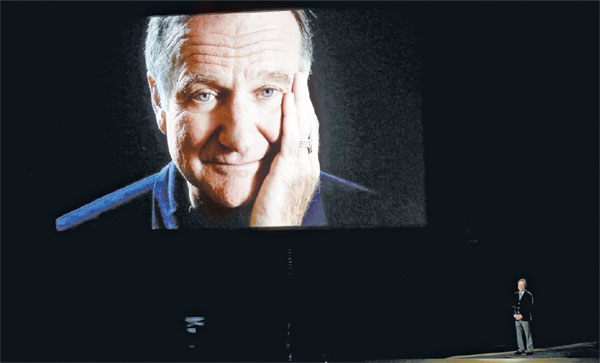 Billy Crystal takes the stage to pay tribute to the late Robin Williams during the 66th Primetime Emmy Awards in Los Angeles on Monday. Mario Anzuoni / Reuters
Breaking Bad gets four statues at LA ceremony
Modern Family won a record-tying fifth best comedy series Emmy Award, and a dominant Breaking Bad captured the top drama award and a trio of acting honors in the ceremony.
Bryan Cranston was honored at the Monday-night ceremony as best actor in a drama for Breaking Bad, proving that True Detective nominee Matthew McConaughey's movie-star appeal couldn't conquer all.
"I have gratitude for everything that has happened," Cranston said. His victory ties him with four-time best-drama-actor champ Dennis Franz. Cranston's co-stars Aaron Paul and Anna Gunn were honored in categories for best drama supporting acting.
"Thank you for this wonderful farewell to our show," said Breaking Bad creator Vince Gilligan of the series, about a teacher-turned-drug-kingpin that ended with a bang.
McConaughey was the object of too-handsome jokes by presenter Jimmy Kimmel and adoration by winner Gail Mancuso, honored as best director for an episode of Modern Family.
"If you don't mind, Matthew McConaughey, I'm gonna make eye contact with you right now," she said from the stage, making good by holding the actor's gaze for much of her speech.
Woody Harrelson and his True Detective co-star were given time to banter before announcing that British actor Benedict Cumberbatch of Sherlock: His Last Vow was the winner of the award for best miniseries actor.
"So you won Oscar, (People magazine's) Sexiest Man Alive and now you want an Emmy too. Isn't that a little bit greedy?" Harrelson teased his fellow nominee.
The ceremony honoring the best of TV wasn't shy about playing the movie-star card. "Six minutes to Woody Harrelson" flashed on screen during British director Colin Bucksey's acceptance speech for best miniseries direction for Fargo.