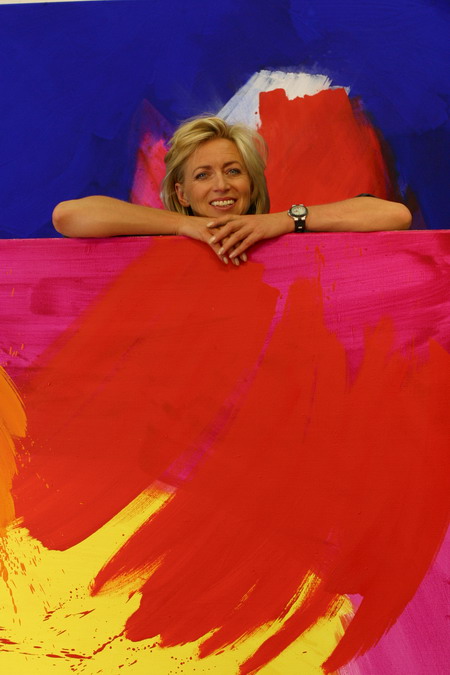 Ingeborg zu Schleswig-Holstein displays her works in Beijing. provided toChina Daily
She prefers to document the inner-self which "is invisible but a brand-new world". She furnishes the small universe of herself with rich colors, just like "a composer plays violin and beats drums to complete music".
"I often find a striking resemblance between my paintings and how outer space looks in an astronomical telescope, or the magnified images of molecular structure and human cells. They represent realities but all look quite abstract because they bear information that people need to decode," she says.
"There is no absolute abstraction, because abstraction exists in all forms of reality that people need to discover."
For Shan, a native of Zhejiang province who lives and works in Hamburg, his spiritual home is built upon the beauty of bamboo and poetic flows of ink on paper. He revisits bamboo as a reoccurring theme in his works on show.
Shan departs from the conventional approach of painting bamboo, a cultural symbol in traditional Chinese art. Rather, he magnifies the textures of bamboo, which he details with abstract brushwork. In his Slowness series, he paints bamboo with oil pigments on canvas.