Filmmaker propels Nepali runner onto foreign stage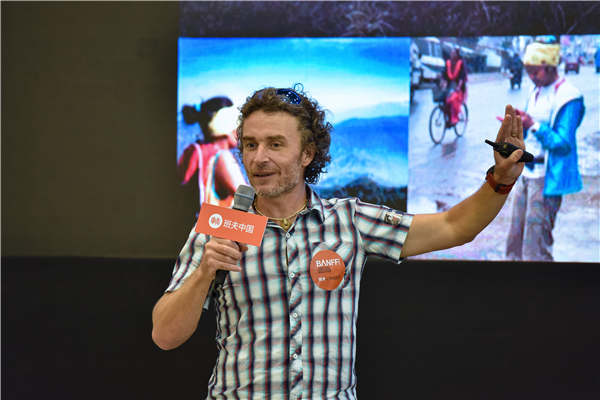 Director Lloyd Belcher shares his filming experience with moviegoers on May 20 in Beijing. His short film records the journey of a high-altitude runner from Nepal, Mira Rai. [Photo provided to China Daily]
The first time Britain's Lloyd Belcher met Mira Rai, it was in October 2014 and he was shooting promotional images of Mira, a young woman from a Nepalese village, in Hong Kong.
Later, he got the idea to make a film about her.
"Her story is a perfect combination of athleticism and art, which would be best captured in a motion film," Belcher says.
The short film will be screened in Beijing on June 24 at the Banff Mountain Film Festival, which will tour the country this summer.
It follows the Nepali woman on her pursuit to become a world-recognized mountain runner.
"The reason to film Mira is to raise the profile of a relatively unknown runner who, at that time, had great potential," says Belcher.
"Also, I hope to convey the idea of never giving up on your dreams to the audience."
Since being released last year, Mira has been a huge sensation in Nepal.
The film has been shown in mobile cinemas in the country, so locals can watch at a school, community hall or just in vacant space.