Jingdezhen ceramics shine in capital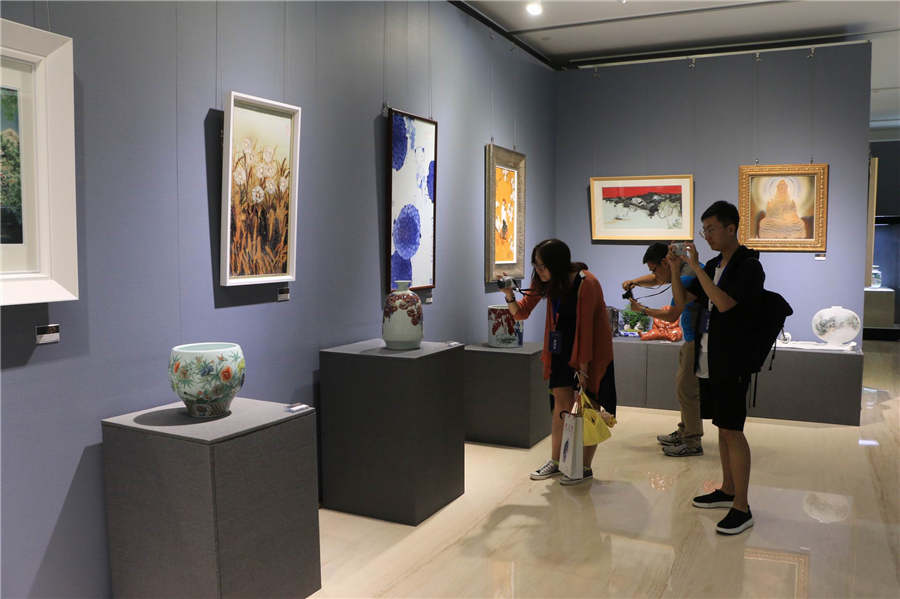 Visitors are captured enjoying porcelains from Jingdezhen. [Photo provided to chinadaily.com.cn]
The latest exhibition featuring ceramics from China's porcelain capital, Jingdezhen, has been unveiled at the Chinese People's Political Consultative Conference (CPPCC) Culture and History Museum in Beijing on Monday.
The exhibit, titled The Ceramic Culture Exhibition of Jingdehzen China, features 364 ancient ceramics pieces, 316 pieces and sets of ancient ceramic replicas, and modern household porcelains, art ceramics and high-tech ceramics.
The exhibition, split into five different categories, consists of one part showcasing ancient porcelain specimens, which span from the Eastern Han Dynasty (AD 25-220) to modern times. This part of the exhibit also displays the largest amount of porcelain specimens so far in China.
Several academic lectures and art exchange activities will also be scheduled throughout the exhibition, which will run until the end of August.
Wang Guangyao, a researcher from the Beijing Palace Museum, delivered the first lecture titled "Porcelains used the royal court along the history" on the opening day.
Several influential ceramic artisans, with excellent craftsmanship from Jingdezhen, were also invited to the opening ceremony of the exhibit. The artisans were able to showcase their techniques and work at the event, which enabled visitors to discover more about Jingdezhen ceramic making.