Breath of fresh air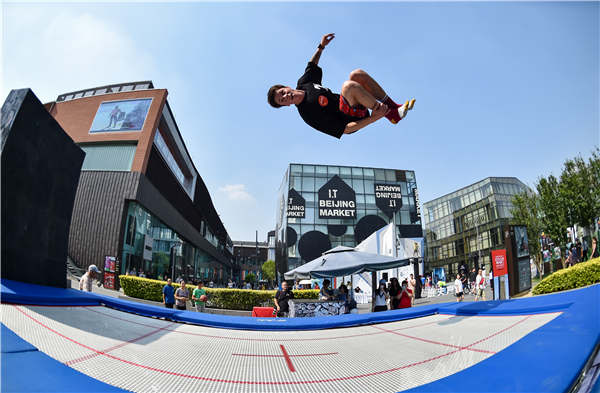 An outdoor sports enthusiast tests the trampoline at the Banff China film festival on May 20 in Beijing. Photos provided to China Daily
A film festival about the great outdoors is getting the attention of young sports fans, Zhang Xingjian reports.
When Qian Haiying first introduced Canada's Banff Mountain Film Festival to China in 2010, it was initially out of her interest in outdoor sports. She and her team-mainly three members-were seeking funding and a chance to develop their fan base.
Ultimately, Qian quit her job as a marketing executive in IBM and devoted herself to the founding of Banff China, a film festival that aims to promote outdoor and nature documentaries in the country.
Banff China has grown rapidly over the past seven years. This year's festival will launch its tour in Beijing on June 24 and then go to Shanghai, Guangzhou, Shenzhen and Chengdu.
The festival not only promotes mountain culture, but also covers diving, running and skiing.
The festival that runs through September has hosted a series of seminars, lectures and training programs since May. All activities aim to give people more understanding of the fun of outdoor sports and related lifestyle, Qian says.
"When I was fresh in outdoor sports, China had not taken up that craze, and I often learned about outdoor sport ideas and skills from foreign countries," the 43-year-old recalls.