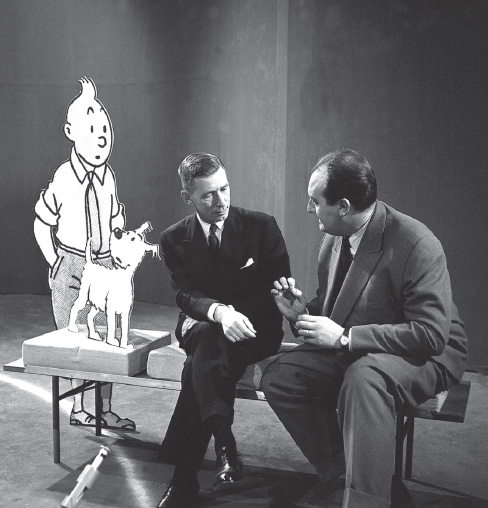 Interview of Herge by Pierre Tchernia in the program Parades of the month. [Photo/Agencies]
The famous comic figure Tintin, known as Dingding in Chinese, is a global-trotting boy reporter who has delighted millions of readers and given Europeans in the 1930s the first impression of China.
China has a special place in the stories of Georges Remi, a Belgian cartoonist who used the pen name Herge. China is the only country that was featured in two books, namely The Blue Lotus and Tintin in Tibet, in the world-famous adventure series thanks to Remi's affection for China.
Tintin, a 15-year-old junior journalist with his little dog Snowy, often runs into eccentric goodies and dastardly baddies. In The Blue Lotus, he visited Shanghai in 1936, when he battled the Japanese-funded opium smugglers with the help of his Chinese friend "Chang".
In the later published Tintin in Tibet, he rescued Chang, whose plane has crashed in Tibet.
Unlike other figures in the series, "Chang" was created on the basis of a real-life person called Chang Chong-jen (Zhang Chongren), who had studied art in Brussels and helped Remi portray China realistically. He and Remi were both born in 1907.
In 1934, to prepare the story of Tintin's journey in China, Remi met and made friends with Chang. The two artists spent one year together, during which Chang introduced Remi to Chinese philosophy, art and literature, and also told Remi about the Chinese people's sufferings during the ongoing brutal aggression of Japan, Chang's daughter Zhang Yifei recalled.