'Demons Strike Back' strikes silver-screen gold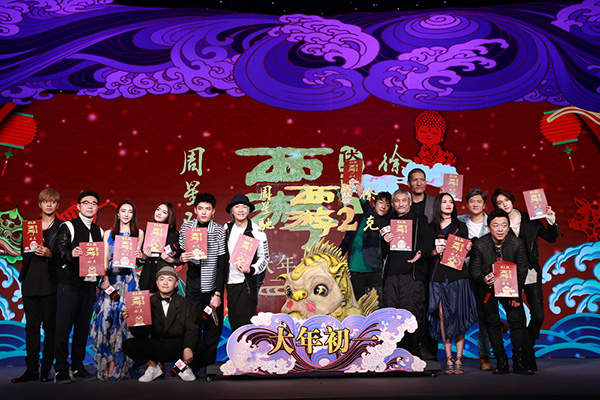 The cast and crew of the forthcoming fantasy epic Journey to the West The Demons Strike Back, which tops the presale box office charts of the Spring Festival holiday. [Photo provided to China Daily]
Domestic media earlier reported that Hark once considered asking renowned Taiwan actress Brigitte Lin to star as Tang Seng, the ancient monk protagonist in the novel. He even raised a monkey from Africa, but the filming plan didn't work out for commercial reasons.
"Digital technology was not mature then. Thanks to Chow and the current market, my dream has come true," says Hark.
"I put all the ideas I've formed during the past 30 years into the movie. It will be a very unlikely tale," he says.
Chow, who directed the first installment, says Journey to the West is one of his favorite novels.
None of the 2013 film's top stars appear in The Demons Strike Back. The sequel stars Kris Wu as Tang Seng and Lin Gengxin as the Monkey King.
Up-and-coming actresses Lin Yun and Wang Likun, and veteran Yao Chen are also highlighted in the cast.
Related:
Chan plans to keep up stunts, despite age
Chinese animated feature first shortlisted at the Berlinale