Musical show 'Singer' brings a wave of Chinese chic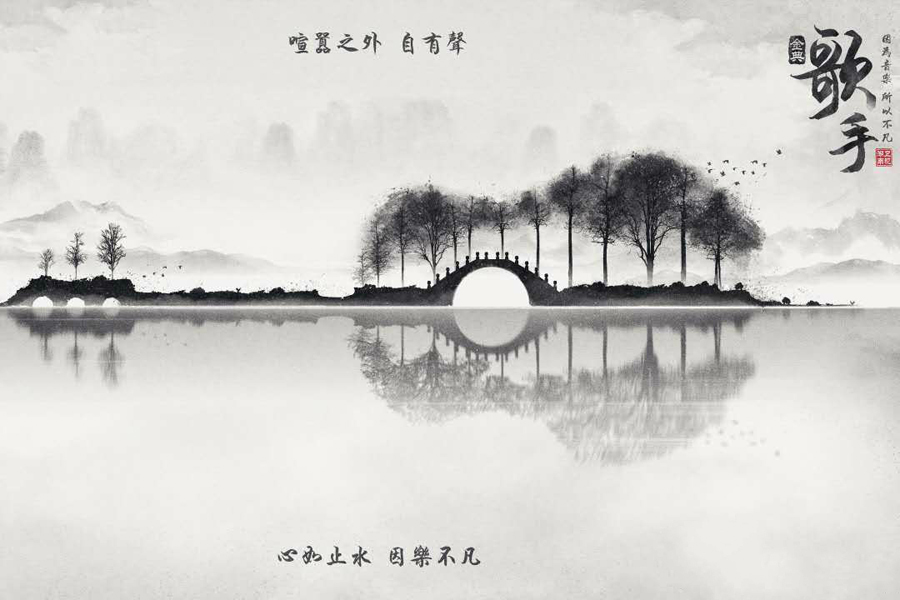 Chinese mountains and the landscape are reflected in still water are reminiscent of traditional Chinese painting in this poster for Singer. [Photo/Official Weibo account of Singer]
The popular Chinese musical TV show, Singer, has released a series of artistic Chinese-style posters to promote traditional Chinese culture.
According to the producer, Hunan Satellite TV, modern people live in a world surrounded by noise and are seldom introspective. However, if people try to reflect on their lives they will find the voice in their hearts, that is the core of Zen.
Zen is a school of Mahayana Buddhism that originated in China during the Tang Dynasty (618-907) that emphasizes rigorous self-control, meditation-practice, insight into nature and the personal expression of this insight in daily life.
The chic posters won the favor of Chinese netizens.
"I have to make a big thumbs up to the show. As an influential Chinese musical show, it should give a taste of Chinese style, not only in music, but in feeling," Sina Weibo user Baobao Xiaodaren said.
"If you take a careful look at the brush painting style poster, you will find that bridges and trees and their shadows constitute the shape of a guitar, that is amazing," another user, X-raylight, added.
Singer was the fifth season of I Am a Singer. On the show, seven talented and veteran Chinese singers perform for a selected audience, which votes to eliminate one singer after each week's performance. The following week, another singer joins the competition, and the lineup of artists varies throughout the course of the show.
In the fifth season, a new rule was introduced to promote ratings: the singers who performed in Seasons 1-4 but didn't win the championship have the chance to come back on stage and fight in another round of competition.