Home / China / China Photos
Passengers keep train attendant's painting dream alive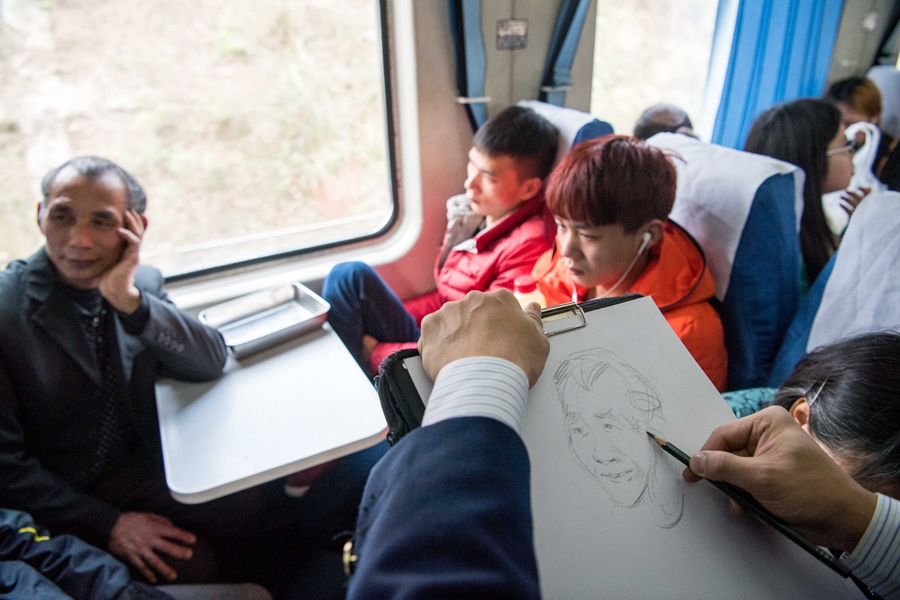 Art-loving train attendant Li Wei draws a portrait for a passenger onboard a train from Chongqing to Beijing, Jan 18, 2017. [Photo/Xinhua]
Lucky passengers departing from Chongqing may get more than they expected on their journey as they make their way home for Spring Festival.
Art-loving train attendant Li Wei has given away over 1,800 portraits of passengers in the past 12 years to record their special journey.
"Hey, sister, can I draw a portrait for you?" Li asked a passenger holding a baby in her arms during a trip from Chongqing to Beijing last week.
The mother was a little surprised, but agreed. After a while, Li handed her a pencil sketch of the mother and her baby as a gift.
Li, 35, started working as a train attendant in 2003, but has always dreamed of becoming a painter.
During a trip from Chongqing to Guangzhou, he noticed several passengers drawing pictures in the carriage and found out later they were students from the art school. Li became friends with those students and decided to chase his childhood dream.
Though he failed the entrance exam for the local art school in 2004, he started to draw pictures during his spare time on the train.
"It is a good way to practice my painting skills and also makes the trip a little bit interesting," Li said.
"I am recording the real life of people with my pencils and brushes."
In addition to pencil sketches, he also does oil paintings and watercolor paintings for passengers.
In 2009, he bought a camera to help record the train journeys.