Spring Festival: The moment migrant worker met son after 24-hour journey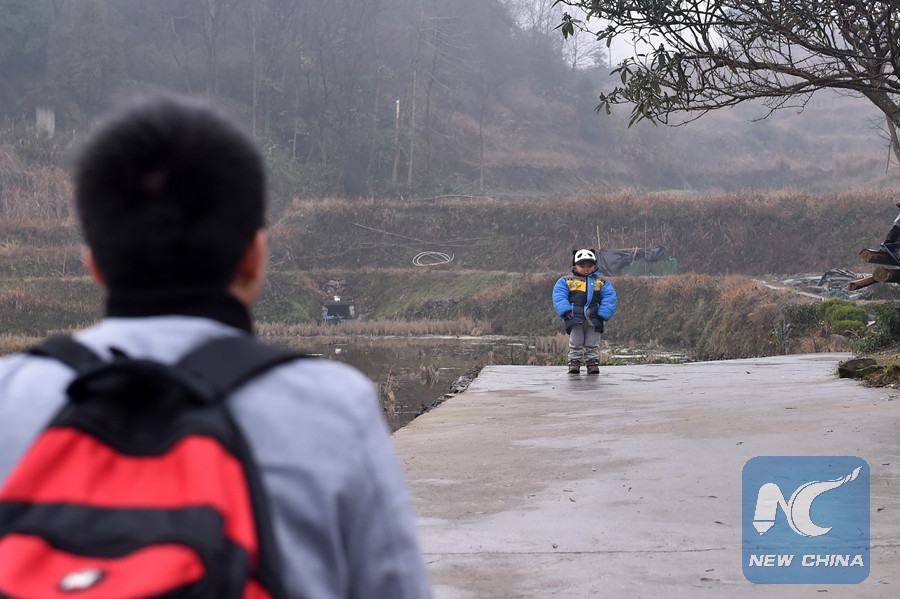 Migrant worker Shi Xin meets his son at the corner of the path leading to his home village on Jan 19, 2017. [Photo/Xinhua]
CHANGSHA/GUANGZHOU - After a 24-hour combined trip by train, coach and bus, migrant worker Shi Xin from Liudou village, Huanyuan county of the ethnic Tujia-Miao autonomous prefecture of Xiangxi, Central China's Hunan province, was exhausted. But the moment when he saw his three-year-old son waiting for him at the corner of the path leading to his home village, Shi felt all the hardships of the homecoming journey and lonely working days away from home evaporated and all of the efforts became worthwhile.
Shi Xin's parents, both in their 60s, still live in the village, taking care of their grandson. Shi Xin has become the family's sole bread-earner since his wife divorced him and left two years ago.
Hoping for a better job and higher salary, Shi Xin, 33, enrolled in a free training course early last year. The practical skills training course is part of a local poverty relief program. With the skills acquired from the training course, Shi headed south and went to Guangdong Province, an economic powerhouse in south China. He landed a job in Guangzhou, the provincial capital of Guangdong, and worked as a painter at a toy factory, with a monthly salary of 5,000 yuan (about 731 US dollars).
Shi Xin used to work as a migrant worker in Guangdong more than a decade ago. Without proper working skills, he earned no more than 3,000 yuan a month.
As a toy painter, Shi Xin knows it very well that this job is harmful to his health, but he works 28 days a month, only taking days off when he feels uncomfortable.
"I do feel tired sometimes, but it really doesn't matter when I think of my child calling me 'daddy'."