American face stands out on local screens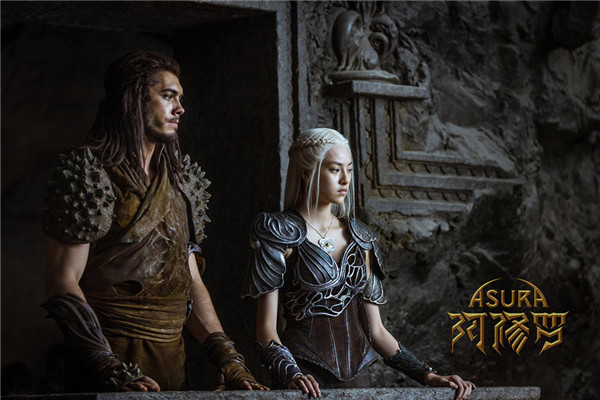 Matthew Knowles (left) stars in the forthcoming fantasy epic Asura. [Photo provided to China Daily]
In 2008, Matthew Knowles was sad when his sports career at Clemson Tigers Football, his university team, ended due to a knee injury. But a call from Southwest China's Guizhou province became a turning point for the Carolina native.
A friend who was then working as a volunteer English teacher in the mountainous Chinese province invited Knowles to experience an unlikely life: To teach local children in the remote city of Duyun, in southwestern Guizhou.
"I did not have a job. When I was a teenager I always wanted to help others. So, I thought it would be a good idea to go to China despite knowing nothing about the country back then," he says at a Beijing hotel.
The interview took place just before Christmas, after Knowles had completed an exhausting day of filming for the forthcoming fantasy epic Asura in North China's Hebei province.
Asura, which has a budget of around $100 million, stars Wu Lei, one of China's most popular teen stars, award-winning actor Tony Leung Ka-fai and Hong Kong veteran actress Carina Lau.
The Chinese-language film, set to be released across China in 2018, has a crew from 13 countries, among whom are veterans from The Lord of The Rings franchise and Pacific Rim.
Knowles, 31, says he bagged the role thanks to his Mandarin skills.
Explaining how he learned Mandarin, he says he was forced to learn the language after his American friend left the country.
"All my Chinese friends spoke very little English. So, it made the language-learning environment perfect," he says.
"If I were in Beijing or Shanghai, then I would probably not have improved my Mandarin so quickly."
Knowles soon began to speak Chinese fluently thanks to watching Chinese television programs and singing Mandarin pop songs in local karaoke halls, and this gave him the opportunity to enter China's showbiz industry.