Film's love story gets poignant set: Normandy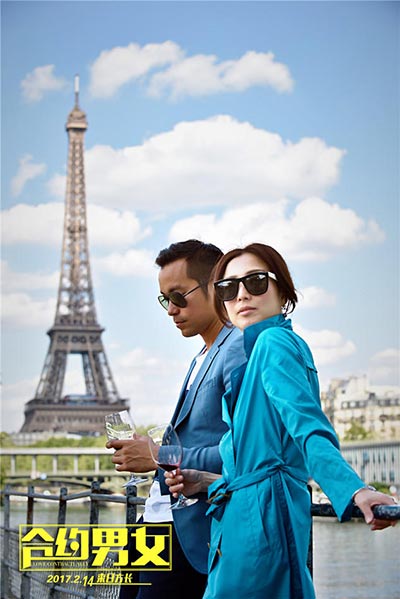 Poster of Love Contractually [Photo provided to China Daily]
To most people, Normandy may be a symbol of fierce battles. But the location which saw the largest invasion in history could also be romantic in a Chinese-language film.
The forthcoming drama Love Contractually, which will premiere on Feb 14, shot some of the most significant scenes in the landmark French region, the film's promoters revealed recently in Beijing.
Led by Hong Kong singer-actress Sammi Cheng and Taiwan actor Hsiao-chuan Chang, the tale fictionalizes an unlikely romance.
An insurance company's female head, played by Cheng, decides to "borrow" sperm from a delivery man, starring Chang, to bear a child, but the plan develops to an out-of-control way.
Known for hit romances, such as Love on a Diet and Needing You..., Cheng seems back in her comfort zone.
But Liu Nan, who directs Love Contractually as his maiden feature, says Cheng has an unprecedented performance in the new movie.
"She accurately incarnates a rich yet lonely soul, who once felt despaired about true love," says Liu.
"Cheng has starred in many classic romances. I feel very lucky to have Cheng in my directorial debut. It's Cheng's first-ever teaming up with a Chinese mainland crew," he adds.
Cheng, 44, notes that this is her first time in a career spanning more than 20 years to co-star with a much younger actor in a love story. Chang is 33.
"It once made me feel a bit embarrassed. But thanks to his veteran performance, we had natural chemistry on the set," she says.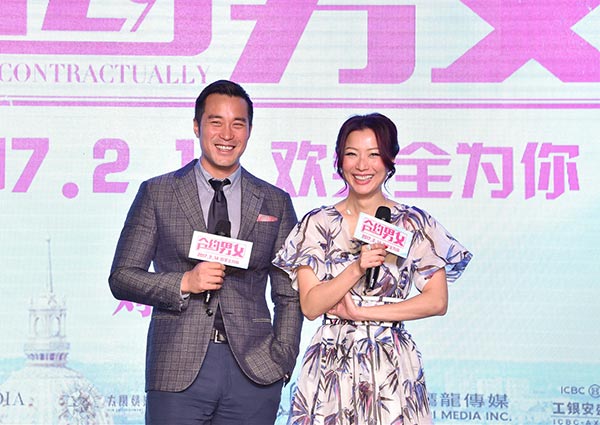 Actress Sammi Cheng and actor Hsiao-chuan Chang [Photo provided to China Daily]
Related:
Animated 3-D film Bicycle Boy to hit screens on Jan 13