Zodiac animals get a makeover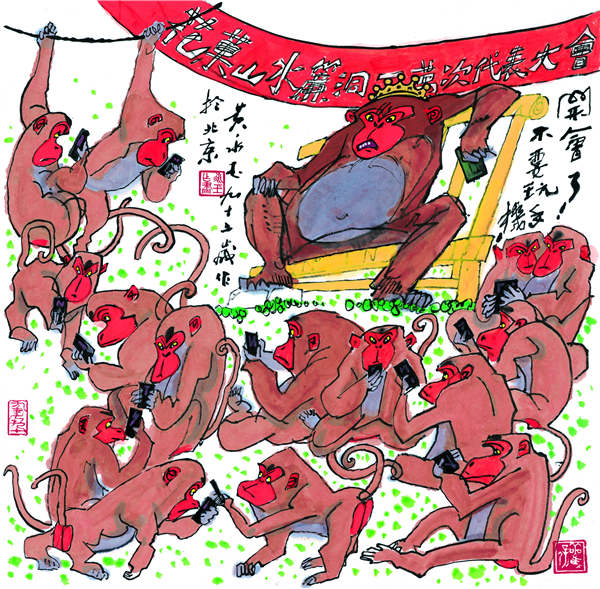 One of artist Huang Yongyu's works [Photo provided to China Daily]
Huang Yongyu, 93, uses the Lunar New Year as an opportunity to comment on social issues and people's behaviors at an ongoing exhibition of his work. Lin Qi reports.
Chinese artist Huang Yongyu, 93, designed a stamp to mark the Year of the Dog in 2006 after being commissioned by China Post. But Huang, who is known for his sense of humor and a down-to-earth style, fell foul of the authorities after he submitted the illustration of a peeing puppy for the stamp.
The design was rejected by the authorities, who then turned to other designers.
Feeling disappointed, Huang, who raises a dozen dogs in his spacious villa called Wanhe Yuan (The Garden of 10,000 Lotuses) in Beijing's eastern suburbs, then produced 12 paintings, depicting many Chinese idioms about dogs through his works.
A friend who runs a publishing house helped him to publish these paintings in a wall calendar.
Huang also did a painting for the calendar cover and crafted a hand-written message for the flyleaf. He distributed the limited-edition calendars to friends as Lunar New Year gifts.
Since then, he has continued with the tradition every year. He just published his 12th calendar to usher in the Year of the Rooster, which will begin on Jan 28 and end on Feb 15, 2018.