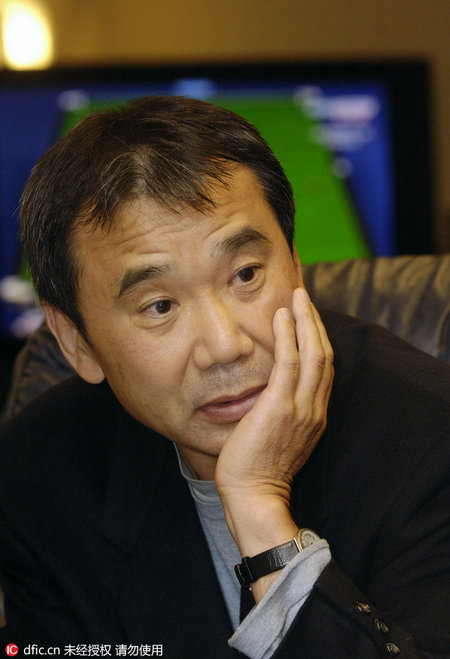 Murakami Haruki. [Photo/IC]
Readers can now buy e-books of Murakami Haruki's works on Amazon.cn in China. Introduced by the Shanghai Translation Publishing House, the books include Rain, Burning Sun and Far Away Drums. Yet, there is no digital version of Norwegian Wood – the most popular among Chinese readers.
"This is an ice-breaking and meaningful success for us, for it has been always difficult to get the digital copyrights from Japanese writers," said Han Weidong, president of the Shanghai Translation Publishing house.
As one of the most well-known and popular foreign writers among Chinese readers, Murakami Haruki has had more than 40 works introduced to China since 2001.
As the popularity of digital books rose in recent years, many Chinese readers also wanted to buy digital copies of Haruki's works.
But it is not easy for Chinese publishing houses to get Japanese writers' digital copyrights.
"Both protection and management of copyrights are extremely strict in Japan. As to digital books, there are only English versions for Murakami Haruki's works, none for any other languages. Even in Japan, there are no digital versions of his books," Han said.
Han says digital books are still strangely new to most of the writers. They are worried that the digital books will take a toll on the sales of paper copies. Moreover, the infringement also will harm their rights.
And celebrated writers and agencies, who often know little about the development of the digital books market in China, are prudent towards selling digital copyrights to Chinese presses.
"Not only Murakami Haruki, but also Milan Kundera who has a good cooperation with us, rejected our proposal to get his digital copyright. He strongly opposed digital books," Han said.
Han says Murakami Haruki finally approved the sale of the digital rights to the publishing house after lots of communication. The three e-books are "pioneers", and they hope to get digital copyrights of more of Haruki's works. No doubt, the digital copy of Norwegian Wood will still be the most demanding one.
Han did not agree with the common idea that digital books would jeopardize paper-copy sales. On the contrary, "Digital and paper books can promote each other's sales, as long as it is a good book, digital ones can help the selling of paper copies," he said.
Han believes paper books will still exist for a long time and even rise in popularity, to some extent.
"Digital books are just a supplement to paper copies," Han said.