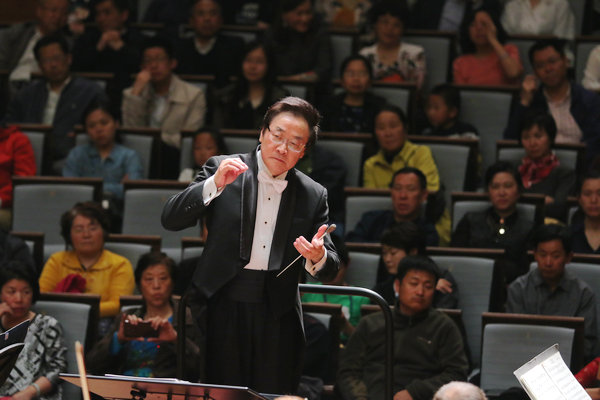 Conductor Chen Zuohuang and his team with the National Center for the Performing Arts have prepared 34 Chinese works for this year's Symphonic Spring program. [Photo provided to China Daily]
When 9-year-old Shi Wanchun heard music playing on an organ in his school in 1945-the year China saw the end of the War of Resistance Against Japanese Aggression (1937-45)-he could not have expected that, 15 years later, his own composition would be performed by an orchestra.
Even more surprising, 60 years later, his nation would become a big player in the world of classical music.
Shi will turn 80 in June.
According to the National Center for the Performing Arts, the first symphonic score composed by a Chinese was in 1916. That's why the NCPA is staging concerts by 12 Chinese orchestras this month to celebrate a century of symphonic music in China.
It took the team, led by NCPA music director Chen Zuohuang, a whole year to collect and prepare 34 pieces by 29 composers, including Shi.
On Wednesday, the Shandong Song and Dance Theater Symphony Orchestra played Shi's best-known work, Festival Overture, under the baton of Yang Youqing.
Shi created the piece in 1959, when he was a senior student at the Central Conservatory of Music in Beijing.