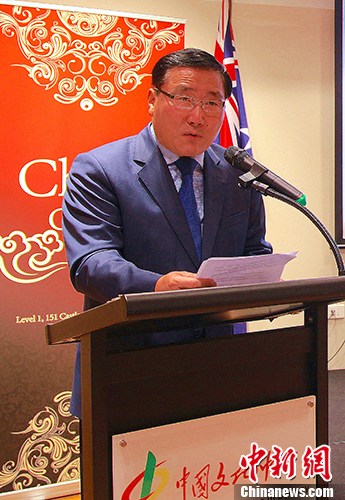 Consul-general of China to Sydney gives the opening speech for the program. [Photo/chinanews.com]
The cultural exchange program "Chinese Contemporary Art Month" kicked off in Sydney's China Cultural Center on April 12. A variety of cultural events will be organized for the local public.
This is the third time that the program has made its way to Australia and two major exhibitions, called "Stories of the Life" ("Shi Jian" in Chinese) and "Zao Hua" (which means nature and fortune in English), will be open during the art month. The former displays people's modern life while the latter focuses on nature, two of which make a perfect combination to showcase the history and culture in contemporary China. Works by 28 artists will be shown.
The exhibitions have toured in Australia for more than two months and have been shown in Adelaide, Hobart and Melbourne previously. The two exhibitions will be open in Sydney from April 13 to May 12.