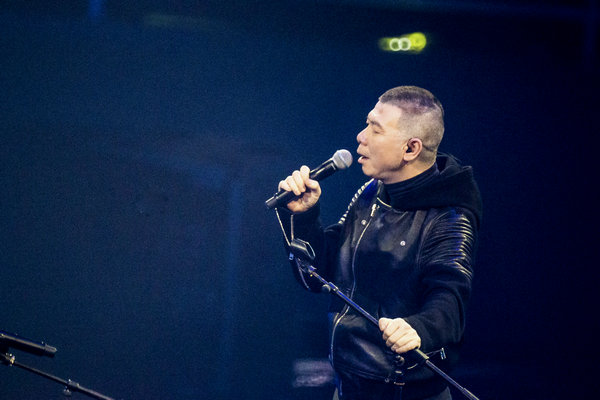 Feng Xiaogang performs at a Beijing concert, themed on the movie Mr Six, in which he plays the lead role. [Photo provided to China Daily]  
China's booming movie industry will likely boost live-music events here, says Ma Le, a veteran concert operator who helped film-director Feng Xiaogang hold his first theme concert last year.
Feng's concert at Beijing Workers' Stadium in November not only surprised his fans but it was a hit, drawing more than 9,000 to the venue and more than 2 million online.
Actually it was Ma's first attempt to hold a movie-themed concert. Titled Mr Six, the concert was named after the award-winning movie of the same name, a crime thriller centered on a Beijing hoodlum.
The movie, which was directed by Guan Hu, stars Feng in the title role. Two other actors from the movie, Wu Yifan and Li Yifeng, also sang at the concert.
Unlike many singers who also dance while performing their songs, Feng sat on a chair. The pressure on him was telling. Having finished the last lyric, the 58-year-old director relaxed and said: "I passed the test."
The news of his concert was prominently covered by many media as Feng won the best actor award at Taiwan's Golden Horse Film Festival around the same time. It was his first such top honor as an actor in his 25-year filmmaking career.
"I was really worried that Feng would choose to fly to Taiwan instead of performing at the concert," Ma, CEO of Beijing-based company Starry Asia Entertainment, says in a recent interview with China Daily.