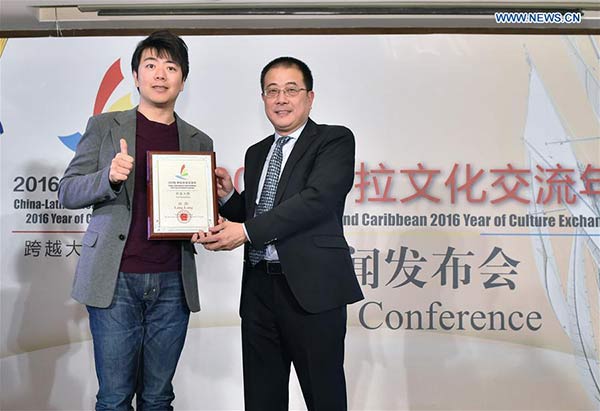 Chinese pianist Lang Lang (L) is named image ambassador of the China-Latin America Culture Year during a press conference of the event in Beijing, capital of China, Jan 26, 2015. [Photo/Xinhua]
March marks the start of the China-Latin America Culture Year, a program that will boost cultural exchanges between China and nearly 30 Latin American countries, the Ministry of Culture announced Tuesday.
The event will include hundreds of activities, such as performances, exhibitions, movie screenings, tourism promotions and literary events, according to ministry official Zhu Qi, who was promoting the event at a press conference Tuesday
Countries including Mexico, Argentina, Brazil and Cuba and some that have no formal diplomatic ties with China will be involved, the official said.
Lang Lang, the Chinese pianist, has been named image ambassador of the event, and he will tour Chile, Argentina and other countries in the region in August.
Exchanges between academic institutions, universities and artists, as well as seminars, translation contests are also on the agenda.
The ministry will launch a translation project to promote the literature of China and Latin America.
The event was proposed by President Xi Jinping in July 2014 during his Latin America trip.
Related:
Year of Culture Exchange to boost China-Latin America ties