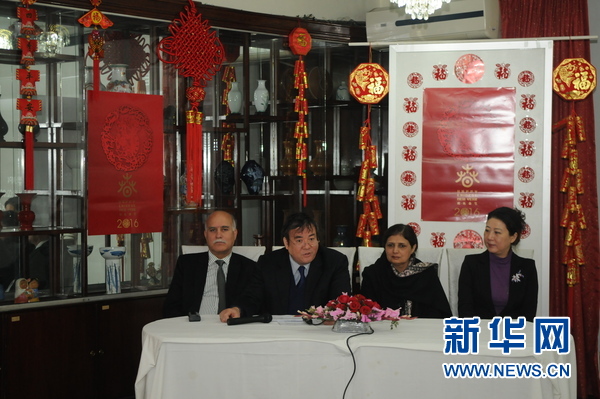 A press conference for the 2016 "Happy Chinese New Year" in Pakistan was held on Jan 16, 2016. [Photo/Xinhua]
China Cultural Center in Pakistan and different Pakistani departments will jointly hold a series of activities and events, starting on Jan 26, in connection with the celebrations of 2016 Happy Chinese New Year in Pakistan.
Regarding the celebrations of the upcoming Chinese Year of Monkey starting on Feb. 8, 2016, a joint press conference was held by officials from both Chinese and Pakistani side at the China Cultural Center in Pakistani capital of Islamabad on Tuesday to introduce the main events and activities to be held during the festival.
Introducing the origin of Chinese spring festival, Culture Counselor of Chinese Embassy in Pakistan Zheng Guojin said the Chinese Year of Monkey is symbol of intelligent, prosperity and auspicious, and he believed that the upcoming year will see success, harmony and improvement in people's lives in the both friendly countries.
Zheng said culture activities had played a vital role to improve relations between China and Pakistan, and he hoped that the events on the spring festival will provide an opportunity to Pakistanis to further understand China and Chinese culture.
During the conference, a short documentary about how the Chinese people celebrate their new year was also screened.
On the occasion, Director General of Pakistan National Council of the Arts (PNCA) Muhammad Naeem sent warm wishes to all those who celebrate Chinese Spring Festival and hoped that the coming year would bring peace, prosperity and happiness for the people of China and Pakistan.
China Cultural Center in Pakistan with the cooperation of the Ministry of Information and Broadcasting and National Heritage of Pakistan, the PNCA and other Pakistani departments and institutions will organize the events in different cities of the country.
The China National Theater for Children will organize three stage plays, by presenting two shows in Islamabad on Tuesday and Wednesday, and one show in eastern city of Lahore on Friday.
The Chinese Movie Week, Show of Pak-China Music Band, a variety show to celebrate Lantern Festival, and exhibitions related to Chinese Spring Festival decorations and Silk Road will also be arranged.
A 12-part documentary "The Forbidden City" and a Chinese Cooking Show will be telecasted at the state-run Pakistan Television during the first week of February, 2016.