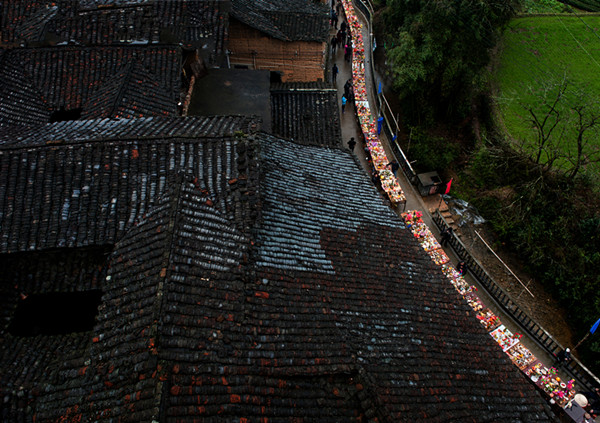 A long line of tables is set up in a village during an ancestral-worship ritual in Songyang county, Zhejiang province.[Photo by Lyu Jintian/ China Daily]
Over the past two decades, author and artist Feng Jicai has been investigating, saving and protecting folk heritage, which is vanishing amid fast changes in Chinese society.
Among his recent books on folk culture is Heritage of 20 Ancient Villages by Beijing-based Culture and Art Publishing House.
The 74-year-old's interest in the country's ancient villages can be traced back to 2002, when he led a group of cultural experts to Hougou village in North China's Shanxi province.
The study of ancient villages in China started in mid-2014, under the ministries of housing and urban-rural development, culture and finance, and the State Administration of Cultural Heritage.
"China is going through fast transformation, from an agricultural society to an industrial one. So, we regard this heritage as our cultural wealth, which we must protect. The Spring Festival is one such case," Feng said at a recent ceremony to launch his book in Beijing.
"In the past, folk culture was inherited naturally from one generation to another, but not anymore. It is the responsibility of intellectuals like ourselves to think about it and act."
According to Pu Jiao, deputy director of China's Traditional Village Protection and Development Research Center, Feng's knowledge of ancient villages comes from his travels across the country.
Feng expects about 1,500 more such villages will be added to the current list of 2,555 that was compiled after three rounds of data analysis.
"But we will have to wait for the official announcement," Pu says.