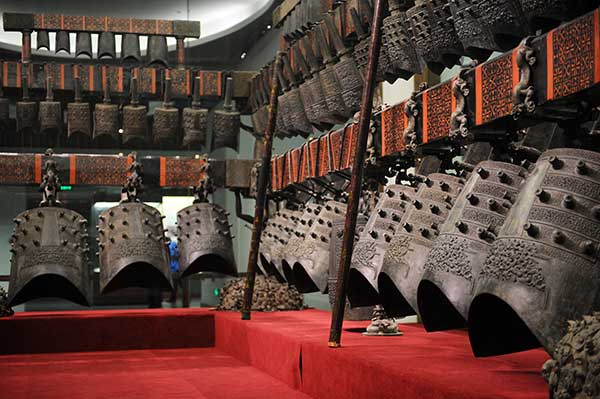 The 2,500-year-old bronze bells in the Hubei Provincial Museum are regarded as national treasures. He Shan / CFP
The bells are 2,500 years old, but their melodies still resound today.
Sixty-five bronze bells of the ancient Zeng State were unearthed in Suizhou, Hubei province, in 1978. They're generally considered by scholars as the highest achievements in the development of musical instruments in China before the Qin Dynasty (221-206 BC). As the Bronze Age faded away, this finale of Chinese ceremonial music's zenith was sparkling.
Last week, a 1,200-page Chime Bells of Marquis Yi of Zeng - China's most complete monograph so far on this musical milestone - was co-released by Gold Wall Press and Xiyuan Press in Beijing. Compilation of this four-volume book began in 2003. About 30 experts in different fields joined in this interdisciplinary project, sponsored by the Chinese National Academy of Arts.
Artistic style, the ceremonial system and bronze-foundry technology are among the major topics discussed in the book. Nevertheless, it also refers to many other aspects of these bells from the early Warring States Period (475-221 BC).
"Their high scientific, artistic and historical value makes the influence of the chime bells of Marquis Yi extend to a wide range, including musicology, paleography and scientific research," says Fang Qin, director of the Hubei Provincial Museum, which now houses these national treasures.
Many mysteries surround the Zeng State because it was never mentioned in any historical records during its time. It only began to appear in historical records during the Song Dynasty (960-1127), when bronze ware with its inscriptions were found.