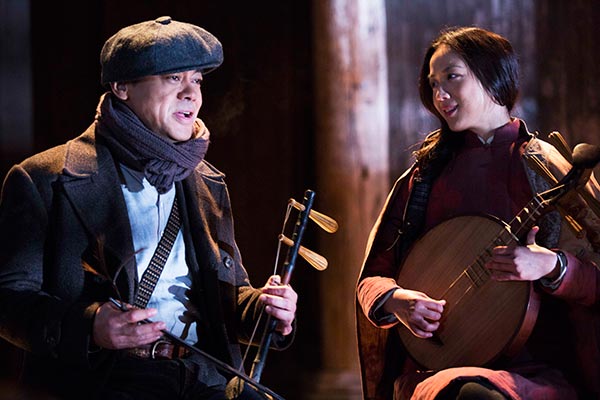 A Tale of Three Cities, starring Sean Lau Ching-wan (left) and Tang Wei, reveals a romance in the 1940s China. [Photo provided to China Daily]
The documentary, released in 2003, made the veteran filmmaker a close friend of the Chan family.
"My mom died during the time, and it made me realize that I should do something for the elderly people who have experienced cruelties during the war," she says.
"The movie carries a collective memory for those who were injured and survived."
Known for in-depth examinations of humanity in her films, Cheung showcases ordinary people's feelings in A Tale of Three Cities, too.
The movie's name references the cities of Wuhu, Shanghai and Hong Kong, where the couples lost and found love.
Based on experiences of Jackie Chan's parents, the film tells the story of two couples during the period between the last years of the War of Resistance against Japanese Aggression (1937-45) and China's Civil War (1945-49).
Tang plays Jackie Chan's mother in the film. Her first husband is killed in a bomb attack by the Japanese, and she has to smuggle opium to raise her two daughters but is captured by a customs inspector. This is when she meets her future husband whose character is based on Charles Chan.
The two-both injured and having lost their respective spouses-fall in love.
"The turbulent times and the chaos are in the backdrop ... I wanted to highlight a story about love," Cheung says.