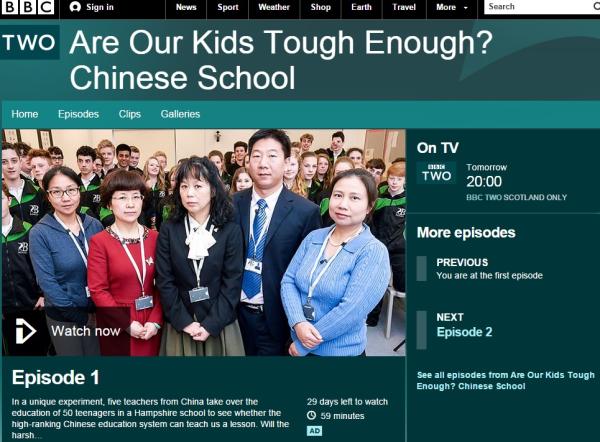 The first episode of BBC documentary series Are Our Kids Tough Enough ? Chinese School made its debut last Tuesday.[A screenshot from BBC website]
After the second episode of Are Our Kids Tough Enough: Chinese School, a BBC documentary series on Chinese teaching methods in a British class aired, it sparked even more debate in Chinese media and on the Chinese Internet than last week.
As greater conflict was shown between the five Chinese teachers and the British teens in the second episode, more and more Chinese netizens began to question the authenticity and reliability of the documentary.
Meanwhile, Chinese media tried to dig into the making of the documentary. They interviewed some of the teachers and students in the documentary, education experts in both China and abroad, and even the staff of the BBC.
Does BBC exaggerate the contrasts in the classroom?
According to an interview with Li Aiyun, a Chinese teacher in the documentary from Nanjing Foreign Language School, by Nanjing Morning Post, the real situation in the classroom was much better than what audiences saw in the documentary.
"In fact, the British teens are very cute with their own advantages and characteristics. We set up a friendly relationship during that month. I know nothing about the final version of the documentary after their editing and rearrangement. What I want to say is our relationship is really good," Li said.
She also admitted that both the teacher and students were not accustomed to each other at the very beginning, and it was a little bit disorderly in the classroom.
"But what audiences see in the documentary is the most disorderly moment. They (BBC) chose the most disorderly part from all the disorderly moments," she added.
Wu Yun, a mathematics teacher in Shanghai Experimental School who was twice involved in a teaching-exchange project in Britain, told the Shanghai based news website Thepaper.com that the BBC documentary may exaggerate or even sensationalize the real situation.
"I taught British kids for one month in 2014 and 2015. My students are really disciplined. It's totally different what we see in the documentary. As far as I'm concerned, the BBC might have sensationalized the real situation to make a dramatic contrast," Wu said.
Many Chinese netizens agree with Wu's view, and think that the BBC made a reality show with dramatic plot, instead of a documentary. @Minitu, a Chinese Weibo.com user, wrote in her comment, "With the background of a different culture, teaching those British students in a Chinese way for just one month, it was not the right way to examine a teaching method, but a good subject for an entertaining reality show." The comment was widely praised on Weibo.com.