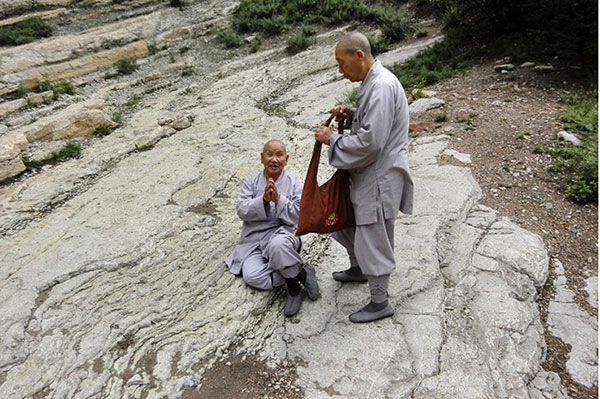 Buddhist nun Yin(left) and a monk. [Photo by Holger Briel/ For chinadaily.com.cn]
As told to Holger Briel, my name is Yin and I am a Nigu, a Buddhist nun. I come from Guilin province, far in the south of China.
I have been traveling for many days on many buses and on many roads to come to Hengshan Mountain. We received very little money from our convent for the pilgrimage but people on the road were very kind to us and supplied us with food and shelter. When leaving things to providence, providence will take care of you.
We started our proper pilgrimage with prayer, kneeling and ritual services on the side of Wutai Mountain and paid homage to Buddha in the three most famous temples there. There were so many monks and nuns that it felt as if they filled the whole world!
Kneeling, getting up again, and taking one step, kneeling, getting up again, and so on from monastery to monastery. I am used to a pious life with many rituals and, while my whole body ached at night, I knew I was doing the right thing. I also drew strength from seeing the other monks and nuns following the same rituals on Wutai Mountain. This filled me with awe and thankfulness and I will never forget this religious experience. Shanxi province is indeed blessed to have these sights within its borders.