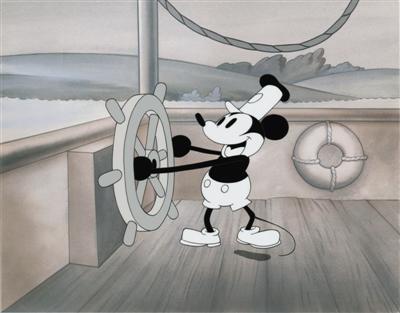 Mickey Mouse made his debut in Steamboat Willie. [Photo/China.com.cn]
Art from Steamboat Willie, Mickey Mouse's debut appearance, Snow White and the Seven Dwarfs, the first full-length Technicolor animated feature, The Lion King, and Frozen showcase the ability of Disney artists.
Visitors will see the script of the Crazy Aeroplane, a story in Mickey and Minnie's series drawn in 1928; the prototype of Simba, the lead role in The Lion King and the painting style of Bambi, effected by Huang Qiyao, a Chinese-American painter, muralist, lithographer and designer. He fused traditional Chinese watercolor painting techniques with Western Impressionism oil painting.
"The exhibition shows the production process of Disney animations. We find how ordinary paintings were transformed into an animated movie, how animation art became a great undertaking," Chen Lusheng, deputy director of the National Museum, said.