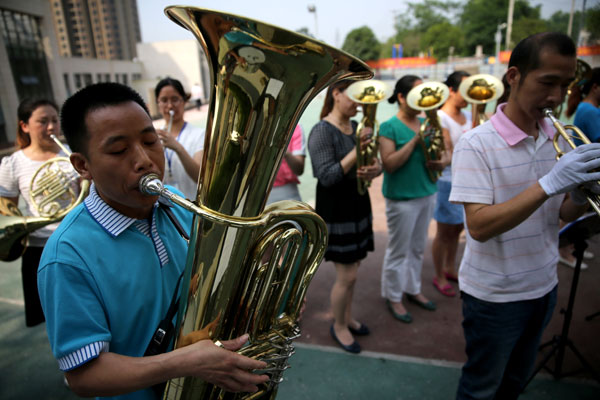 Villagers gather to play music every weekend in Beidou, Chongqing. [Photo by Jiang Dong/China Daily]
Every weekend, about 20 amateur musicians gather under a big tree in a square in Beidou village, Chongqing, where they play various instruments such as drums, cymbals, trumpets, French horns, creating music that is only interrupted by the noise of tractors used by villagers to farm their land.
The mountainous area is an hour by car from downtown Chongqing in Southwest China.
And the musicians are the stars of the village.
In 2011, when musicians from the China National Symphony Orchestra, including conductor Li Xincao, violinist Liu Yunzhi and trombone player Yang Xiao, visited the village as part of a program to take classical music to rural China, the orchestra decided to help set up a local band of players.
Since then, the orchestra has donated many instruments and provides regular classes to the villagers every year.
"Five years have passed and we are surprised to see their progress," says Zhou Hong, a veteran French horn player of the orchestra who trains the village's farmers. This year, his classes were held from May 9 to 11.
"I can still remember the first year. Most of them had never seen the instruments before and they didn't know how to hold them, let alone read any musical scores or play a decent note. But now, they not only know how to play the instruments but have also learned how to express themselves and communicate with others through music," he says.
He didn't expect the villagers to take the sessions seriously, he adds.
Zhou also points out that besides talent, a key part of learning instruments is practicing them. Although the farmers missed the best age to learn instruments, they have made efforts to enjoy music now.