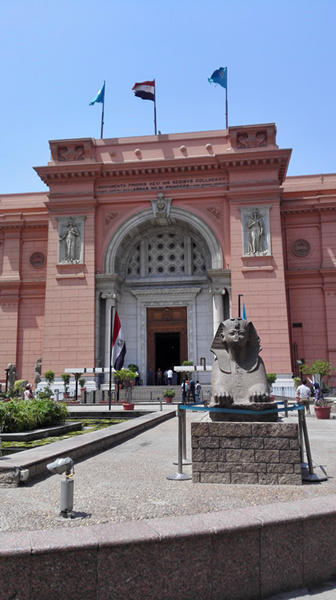 The Egyptian Museum has seen a decline in the number of visitors over the past years.[Photo/Wen Zongduo/chinadaily.com.cn]
Smuggling of relics by international mafia groups and lack of funds for preservation of exhibits and relics are among the major challenges museums are facing in developing countries, according to Mahmoud El Halwagy, director general of Egyptian Museum in Cairo.
At a ceremony jointly marking the International Museum Day on May 18 with officials from the Chinese Embassy, Halwagy called for intensified efforts of the international community to counter smuggling gangs.
"There should be severe punishment for such crimes both by international and national courts," he said.
As smuggling of relics often involves law enforcement in more than one country, cooperation between different nations, especially between developing countries, which are often the victims, and the developed countries, is key to progress.
Moreover, economic development and better living standards for the poor and low-income people are also necessary in order to curb such smuggling, Halwagy said, as poverty often drives poor people into smuggling in their struggle for a living.
Fund shortage is another challenge for the museums of developing countries, he said. "Visitors to the Egyptian Museum have been declining because of the political turmoil in Egypt over the past four years and so have revenues of the museum."