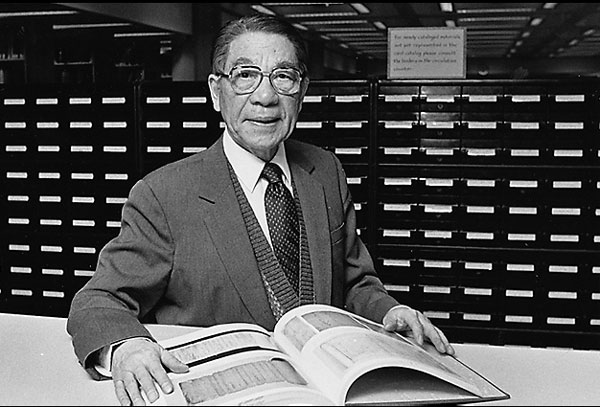 Tsien Tsuenhsuin at the University of Chicago's East Asian Library in 1986. He passed away on April 9 in Chicago at the age of 105. [Photo provided To China Daily]
If not for him, volumes of precious, ancient Chinese books might have been destroyed during World War II.
When he passed away earlier this month, scholars across the Pacific Ocean gathered to pay homage to this witness to history.
The National Library of China in Beijing hosted a commemorative event for Tsien Tsuen-hsuin (better known as Qian Cunxun on the Chinese mainland), who is considered to be one of the greatest scholars of Chinese paleography and bibliography in the last century.
Tsien, 105, passed away on April 9 in Chicago.
"He always called himself a common librarian," says Tsien's student James Cheng, curator of Harvard-Yenching Library, one of the most renowned institutions housing Chinese written classics in the United States, at the commemorative event in NLC. "However, he felt neither humble as a librarian nor arrogant as a widely respected scholar."
When British Sinologist Joseph Needham compiled his masterpiece Science and Civilization in China, he invited Tsien to write a volume on paper and printing.
NLC opened an exhibition last week displaying Tsien's publications, pictures, letters, and manuscripts to reveal his great contribution which is little known by the Chinese public. The 100-odd exhibits give a panoramic review of Tsien's life and highlight his endeavor to protect precious ancient Chinese books during the war.
After Japan occupied Northeast China in 1931, the National Peking Library (predecessor of NLC) decided to transport some key collections of rare classic books to Shanghai in case they fell into occupiers' hands.
However, when Shanghai also got involved in the war in 1937, the library reached an agreement with the Library of Congress to secretly ship the books to the US for preservation.