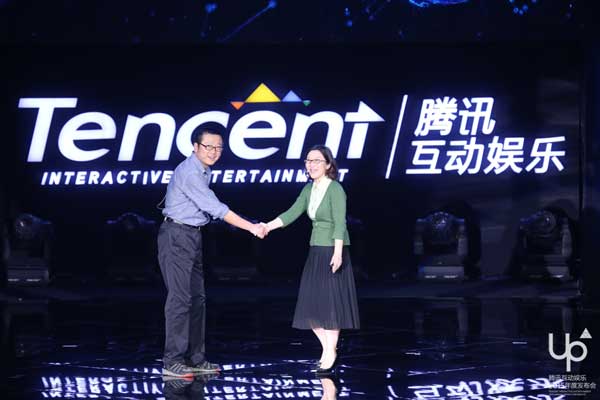 Author Liu Cixin shakes hands with Liu Ming, general manager of mobile game division of Tencent Interactive Entertainment, at a ceremony that celebrates Liu as Tencent's "mobile game imagination architect". Photo provided to China Daily
Popular sci-fi writer Liu Cixin now has a new job title-Tencent's mobile game imagination architect.
The author of the Three-Body trilogy revealed part of his game script for Thunder Fighter, one of the IT giant's most popular mobile games, at a news conference on March 30. The collaboration marks a milestone in the relationship between the literati and game makers in China.
"Fiction as an art of narrative is gradually fading into the sunset, and the prospects for science fiction lies in fusion with other media, such as film, TV and online games," says Liu.
The first film adaptation of the Three-Body trilogy started shooting in the Lesser Hinggan Mountains in the northeastern province of Heilongjiang last month.
"Science fiction and games are similar to each other because both of them create an imaginary world, where the story develops. If a game emphasizes quality, the setting of the world will be an important element, just as it is in literary works," says Liu.
Thunder Fighter was released in March 2014. Players take on the role of a pilot named Roy, flying different aircraft and fighting enemies in space.
In the game script, Liu adds parallel universes to the original storyline, in which humans must seek alliances with civilizations in other worlds in order to survive.
Via the powerful social networking platforms WeChat and QQ, two instant messaging apps owned by Tencent, Thunder Fighter attracted 40 million players in its first month.
According to the game's project manager Wang Haosu, the majority of players are men under the age of 25.
"They have great interest in sci-fi themes, and we believe Liu Cixin will provide a worldview that can enhance the game experience of our players," Wang says.
ZhuJiayin, a 15-yearveteran of the game industry and the founder of Chuapp.com that covers news about mobile games in China, says: "It is the first time a writer who is accepted by mainstream literary circles has cooperated with gamemakers."
Zhu says a similar cooperation took place in 2004, but it was mostly between game makers and online writers.
"The marriage between Liu and Tencent is more symbolic," says Zhu, adding that players are less likely to pay attention to the plot of Thunder Fighter than the competitive aspects of the game.