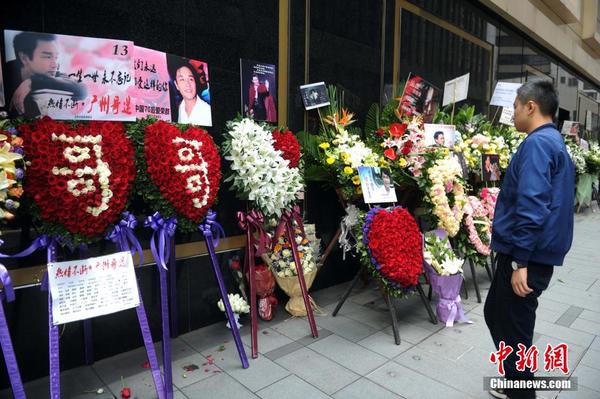 Fans of Leslie Cheung placed flowers in front of Hong Kong Mandarin Oriental Hotel in remembrance of their favorite star on March 31. [Photo/Chinanews.com]
Charles Heung (Hong Kong media mogul): Thirteen years later, I am still deeply saddened. No one in Hong Kong's showbiz has replaced you, and no one ever will.
Chen Lan (wife of Charles Heung): Another year has gone by, and it's been 13 years! I miss you very much. You would have been 60 this year. It should have been another start in life. The wind has continued to blow these years, but you are the one and only goh goh (Cheung's nickname in Cantonese, literally translated as "big brother"). You have made me hate April Fool's Day (and I used to love to pull pranks on people on this day). You have made me turn my back against the Hong Kong Mandarin Oriental Hotel (where Cheung was found dead).
Han Han (writer): We warm each other with embraces, we rely on one another to live, even if we lose our identities in this world of ice cold humanity. Remembering Mr. Leslie Cheung.
Julian Chen (former pop star with a close physical resemblance to Cheung): Missing you.
Hacken Lee (singer): The wind continues to blow, but I cannot bear myself to stay far away (taken from lyrics of Wind continues to blow, which shot Cheung to fame in 1983. Cheung also performed this song at his farewell concert in 1989.)