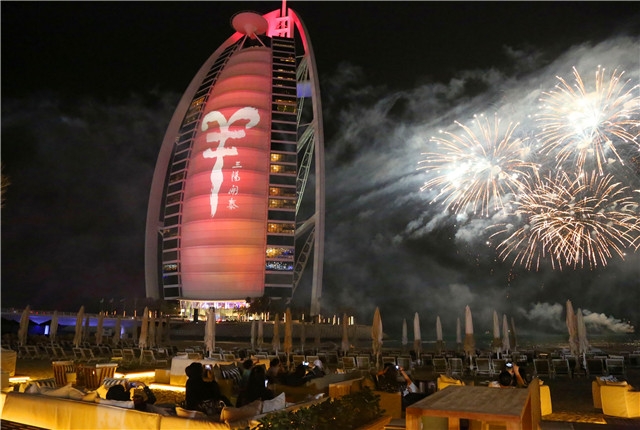 Dubai's Burj Khalifa is lit up in red to celebrate Chinese New Year. [Photo/Xinhua]
It was no coincidence when New York's Empire State Building, the Sydney Opera House, Toronto's CN Tower and Dubai's Burj Khalifa were all illuminated with red and gold lights, to mark the global celebration of Chinese Lunar New Year.
Under the auspices of China's Ministry of Culture, cultural activities are being held in countries and regions worldwide attracting overseas Chinese and local citizens to join in the celebrations.
A series of "Happy Chinese New Year" events kicked off in Chicago and a large firework show made its debut in the US entitled Splendid China. The Confucius Institute and local schools also put on activities. Parades, lion and dragon dances and popping firecrackers made appearances in the streets of Vancouver, Washington D.C and Trafalgar Square in London.
Appealing both to overseas Chinese and foreigners for its focus on family and optimism, Chinese New Year serves to enhance mutual understanding and plays a significant role in building a peaceful and harmonious world. In the Chinese zodiac, the year 2015 is symbolized by the sheep. Piety, docility and kindness are traits attributed to people born under this sign. The festivities connect people from every corner of the world, since the wish for prosperity and security is shared by all races and ethnicities.
Celebrations are no longer confined to Chinatowns or overseas Chinese. Plazas and shopping centers are decorated with lanterns, Chinese knots and other traditional handicrafts which make Chinese travelers feel at home though they are miles away from China.