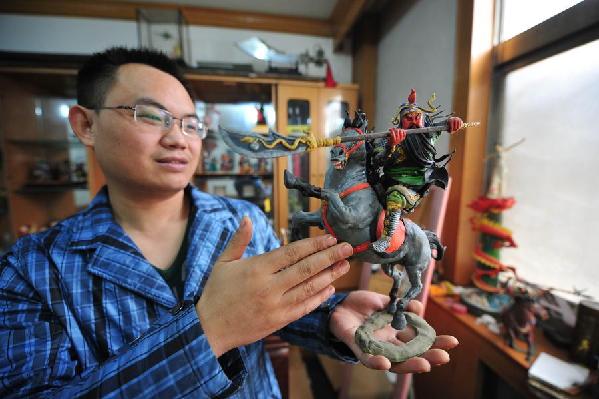 Ma Bin shows one of his intricate works in his studio. [Photo/Xinhua]
Ma Bin, 35, is a folk artist from Shandong province. He displayed his dough modeling work at his studio on Feb 25, viewing the exquisite creations with satisfaction as he recalled what led him to his special art form.
He was born into a rural family in Shan county, Heze city. After graduation from college in 2002 Ma tried many different professions before deciding to focus on the seemingly strange business of dough modeling.
In 2006 he began to learn the techniques and skills and visited dough modeling masters across the country to study their methods. Since then he has transformed from beginner into an expert through constant effort and opened his own company.
"Dough modeling is a good heritage passed to us from our ancestors and we cannot throw it away", Ma said. He is planning to create a large-scale work that presents Chinese characters, architecture and other cultural elements.
"We need to promote this art so that dough modeling can develop." Ma said.